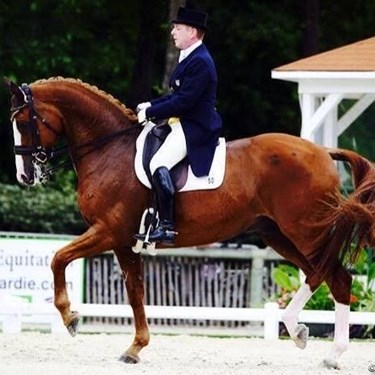 Dennis Callin Clinic
1/17/2020 − 1/19/2020

Open: 11/19/2019

Close: 1/15/2020

Waitlist Offered
Organizer: Jeff Anderson
Dennis Callin is an International Grand Prix rider and a United States Dressage Federation (USDF) Gold Medallist. Having started riding at 12 Dennis graduated from the accredited Meredith Manor School of Horsemanship, attaining a Riding Master Certificate. Dennis then continued at the Manor as an instructor for a further 6 years. During this time Dennis had the opportunity to train with Ernst Bachinger from the world famous Spanish Riding School in Vienna, Austria and with the Swedish Olympian Col Bengt Ljungquist who went on to coach the1976 US Olympic Bronze medal winning team.

Dennis established himself as a teacher, trainer, mentor and competitor after leaving his teaching post at Meredith Manor, winning numerous regional and national titles. Some notable achievements include:
Educational Chair of the North Carolina Dressage and Combined Training Association
Coach of the North American champion, Susan Dutta
Coach of the Gold Medal winning North American NJYR Championships, Mary Haskins Gray
The opportunity to live and train in Europe was not one to be missed, including six years spent in Germany working with world renowned dressage trainers such as Georg Theodorescu, Jurgen and Christoph Koschel (with whom Dennis still works).
International Grand Prix success began in 1984 with second places for Team USA at the CDIOs in Aachen and Rotterdam.

Dennis now lives in Great Britain but he continues his international competition career and teaching commitments, travelling frequently to the USA where he conducts seminars and private lessons. His most current International placings were with his equine partner D'Accord 58 with whom he had numerous top ten placings (placings in brackets) between 2010 to 2012 culminating with a top 100 ranking in the World Ranking list. Results include:
Hartpury, UK CDI3* Grand Prix
Hickstead, UK CDI3* Grand Prix
Biarritz, France CDI3* Grand Prix Freestyle to Music
Lyon, France CDI-W Grand Prix
Hamburg, Germany CDI4* Grand Prix Special
Compiegne, France CDI3* Grand Prix and Grand Prix Special
Perl, Germany CDI4* Grand Prix and Grand Prix Special
Salzburg, Austria CDI5* Grand Prix and Grand Prix Special
David and his Partner David Taylor run Dennis Callin Dressage from Stretcholt Equestrian Centre in Somerset in the UK, where they have several International FEI prospects in training. They also breed a select number of foals from their GP mare Laschka using premium European Stallions - the results so far do not disappoint with the lovely Duke of Sussex (Harry) by the up and coming stallion Don Deluxe

Organizer Notes
Jeff Anderson

jmaoct06@gmail.com

6107619818
1 Day Clinic
Instructor: Dennis Callin
$200.00
2 Day Clinic
Instructor: Dennis Callin
$400.00
3 Day Clinic
Instructor: Dennis Callin
$600.00
Tests/Experience
1 Day Clinic Levels
Training Level Dressage
1st Level Dressage
2nd Level Dressage
3rd Level Dressage
4th Level Dressage
FEI Dressage
2 Day Clinic Levels
Training Level Dressage
1st Level Dressage
2nd Level Dressage
3rd Level Dressage
4th Level Dressage
FEI Dressage
3 Day Clinic Levels
Training Level Dressage
1st Level Dressage
2nd Level Dressage
3rd Level Dressage
4th Level Dressage
FEI Dressage
Administrative Information
Ride Time:

Ride times will be emailed

Trailer Direction:

Parking behind barn

Change Policy:

Changes are not permitted.

Refund Policy:

No refunds.

Entry Option(s) Reserve Spot Via STRIDER, Mail Check