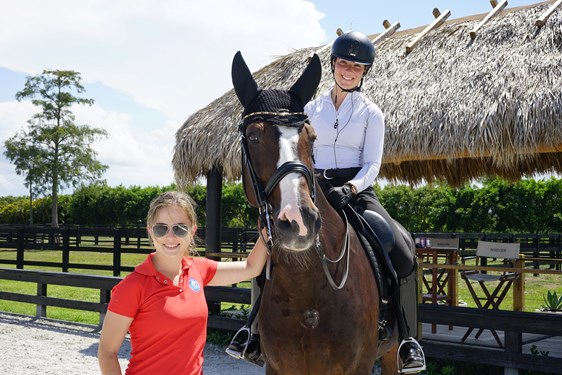 Create Your Own Freestyle With Collier Wimmer

5/14/2022 − 5/15/2022
eWaiver Link(s)

Organizer:

Lisa Hellmer

Lisa@lchequestrian.com

603-801-2140
Do you want to ride a dressage freestyle but don't know where to start?
Join us for a fabulous opportunity to have Collier Wimmer of Three Wishes Freestyles create a personal freestyle for you and your horse.
Since 2011 Collier Wimmer has been partnering with amazing horse and rider combinations to create extraordinary freestyles that have shown and won at both Regional and National Championships, international CDI's, CPEDIs, and Nation's Cups.
Collier brings a one of a kind combination of a dancer's background, a longstanding love of music, years musical education and an uncanny ability to understand what makes each horse and rider combination exclusive. She has an eye and appreciation for what will make a special and memorable freestyle for each combination.
DAY ONE: Learn about freestyles and their various components. Then each rider has a private, mounted session with Collier focusing on selecting music for the pair.
DAY TWO: Pick up where you left off with Collier and work towards some creative choreography.
$200 of your entry in the clinic goes toward the purchase of your fully completed freestyle which you can complete with Collier. A fully choreographed freestyle with music and continued support is $550.
You cannot afford to miss this fantastic opportunity!
Organizer Notes
Please provide the following:
1. Horse age and breed
2. Any music that you like
3. Any music you really do not like

2 Day Clinic
Instructor: Collier Wimmer
$250.00
Tests/Experience
2 Day Clinic Levels
Training Level Dressage
1st Level Dressage
2nd Level Dressage
3rd Level Dressage
4th Level Dressage
FEI Dressage
Administrative Information
Ride Time:

Ride times will be emailed the week before the clinic

Change Policy:

Changes are not permitted.

Refund Policy:

No refunds.

Entry Option(s) Secure Spot: Pay in full via STRIDER Reserve Spot Via STRIDER, Mail Check