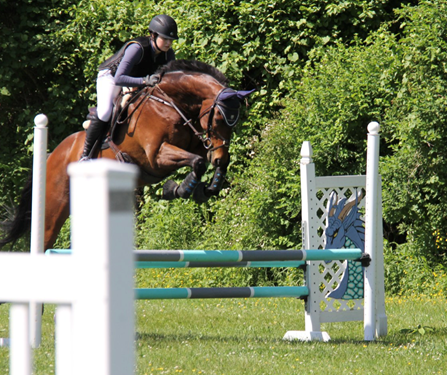 Azrael Acres Jumper Show

7/8/2022
Organizer:

Faith Perini

azraelacres@yahoo.com

Show Starts at 4pm
Unjudged warmup starts at 3pm
A - classes are optimum time and jump off
B - classes are timed for speed (fastest time wins)

Un-judged Warm-up:
Will run 5-8 minutes at a time with 2-3 riders in the ring at once.
Will be ring steward discretion.
o Non-competing riders must still be registers and pay a $20 ring fee.
o Show venue reserves the right to combine, cancel, reschedule, or divide
classes when deemed necessary.
o Pre-Entries to be filled out online via Strider or mailed to Azrael Acres and
need to be received by the Wednesday before the show date
 144 Williams St, Uxbridge MA
 Entries are not complete unless payment is received upon entering
via Venmo, check, or Paypal.
o Pre-entries can add on classes during the show if they choose to
All classes will be judged based on USEF rules, unless otherwise stated. Judges
decisions are final, and ribbons will be awarded to sixth place.
ATTIRE: Casual Jumper attire-short sleeve or long sleeve, (No tank tops), ASTM
approved helmet when mounted, breeches, and appropriate boots/half chaps.
CLASS DESCRIPTION:
o All 'A' Classes will run as Timed First Jump-off (All clear-round riders will
remain in the ring for the jump off)
 First round will be based on optimum time. (i.e.- if all riders have
faults the score will be reflected upon optimum time, whoever is
closest to that time with their faults will win)
 The optimum time will be posted day of event on the course maps
o All 'B' jumper classes be speed classes (fastest time wins)
 B-course will be more difficult than the A course
o All courses will be posted the day of the show
Payment MUST be made when you enter online via PayPal, Venmo, or check.
***Azrael Acres will not be held responsible or liable for any damages occurring to
persons, horses, or property while on the grounds. Exhibitors enter show under these conditions.***
Organizer Notes
Unjudged Warm up (3pm-4pm)
$20.00
Administrative Information
Change Policy:

Changes are not permitted.

Refund Policy:

No refunds.

Entry Option(s) Secure Spot: Pay in full via STRIDER