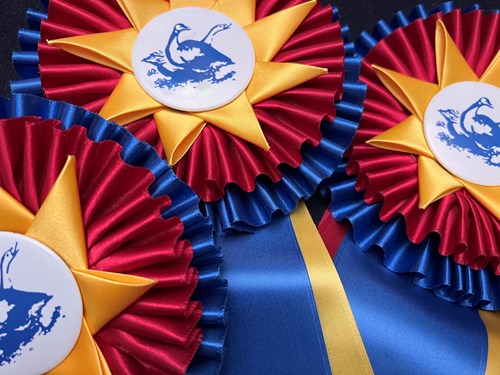 2023 Blue Goose Schooling Dressage Championship

11/18/2023
Organizer:

Darcy Miller

bluegooseshows@gmail.com

610-999-5231
Blue Goose is holding their 2023 Dressage & Combined Test Championship November 18, with over flow to November 19. If you have shown at two of our shows this season you are qualified! The Championship classes are at the bottom of the list. Classes will be split by rider status if more than 3 of one status ie: Jr/Yr, Master, AA, Open
Blue Goose Stable, LLC offers monthly schooling dressage shows at their lovely venue located in Chester County PA. We offer all USDF, USEF, FEI dressage tests as well as USEF / WDAA Western Dressage Tests. We love Musical Freestyles !! Bring you dance partner or two or three and enter a MFS, Pas Du Duex or a Quadrille! Our shows are member shows of Triangle Show Series and DVCTA as well as enrolled in the USDF Regional Schooling Show Awards program. Be sure to include you membership numbers on your entry form. Additionally we offer series end awards which can be found on our website.
Organizer Notes
Each entry must contain a current coggins, 6 mo. vaccination certificate, entry form and signed release.
No Refunds after closing date for any reason. Refunds prior to closing date less Office Process Fee.
Water and bath area available for horses.
Coffee and snacks available for all on the hospitality porch across from the warm up arena.
USDF Introductory A
$40.00
USDF Introductory B
$40.00
USDF Introductory C
$40.00
Training Level Test 1
$40.00
Training Level Test 2
$40.00
Training Level Test 3
$40.00
First Level Test 1
$40.00
First Level Test 2
$40.00
First Level Test 3
$40.00
Second Level Test 1
$40.00
Second Level Test 2
$40.00
Second Level Test 3
$40.00
Third Level Test 1
$40.00
Third Level Test 2
$40.00
Third Level Test 3
$40.00
Fourth Level Test 1
$40.00
Fourth Level Test 2
$40.00
Fourth Level Test 3
$40.00
FEI Intermediate 1
$40.00
FEI Intermediate 2
$40.00
FEI TOC ( any test not listed)
$40.00
FEI Young Horse TOC
$40.00
USDF MFS ( Tr -4th)
$50.00
USDF Quadrille & Pas Du Duex
$50.00
Western Dressage MFS
$50.00
Western Dressage TOC 1
$40.00
Western Dressage TOC 2
$40.00
Western Dressage TOC 3
$40.00
Western Dressage TOC 4
$40.00
FEI Para Dressage TOC 1
$40.00
FEI Para Dressage TOC 2
$40.00
Prix Caprille TOC ( Intro - First
$50.00
Leadline Champioinship
$55.00
USDF Intro Championship AA /JR
$55.00
USDF Intro Open Championship
$55.00
Training Championship Test 3
$55.00
First Level Championship Test 3
$55.00
Second Level Championship Test 3
$55.00
Third Level Championship Test 3
$55.00
Fourth Level Champioinship Test 3
$55.00
FEI Championship TOC
$55.00
Musical Freestyle Championship TOC
$65.00
Western Dressage Championship Test 4 any level
$55.00
Office Processiing Fee

$10.00

EMT

$7.00
Administrative Information
Ride Time: Ride times will be posted on FB, our website; www.BlueGooseStable.com, and emailed to all in the show with valid email addresses on file.
Trailer Direction:

Parking is located in the field on the west side of the property. All trailers park on the left and ALL CARS park on the right facing the fence line. NO traffic on the main driveway.

Change Policy:

Changes are permitted before registration closes.

Refund Policy:

Refunds are permitted before registration closes.

Entry Option(s) Secure Spot: Pay in full via STRIDER