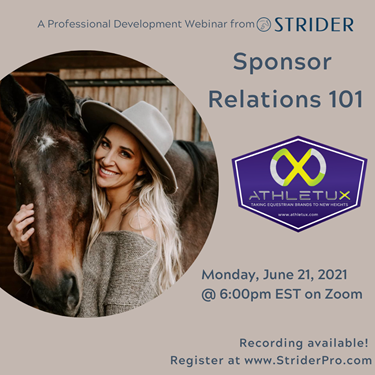 WEBINAR: Sponsor Relations 101 featuring Athletux | June 21, 2021 @ 6:00pm EST

6/21/2021
Organizer:

Team STRIDER™️

support@striderpro.com

Join STRIDER & Athletux for a Professional Development Webinar to cover Sponsor Relations for Equestrians. This 60-minute discussion will feature special guest speaker Frankie Thieriot-Stutes, President of Athletux.
🔹When: Monday, June 21, 2021 at 6:00pm EST on Zoom
🔹Where: Zoom! Click <attend/ audit> below to register in advance & receive the link to attend
🔹We'll cover:
-How to attract sponsors for your equine business
-Best practices for outreach to potential sponsors
-Tips to keep your sponsors happy
-Social media tips to creatively highlight your business or venue's sponsors
🔹Plus, a live Q & A to have YOUR questions answered by our expert!
🔹 Pre-registered attendees will automatically receive a complimentary copy of the recording
About Frankie Thieriot-Stutes, President of Athletux:
Frankie Thieriot Stutes is known across the equine industry both for her business contributions and riding accolades. As President of the established equine marketing company Athletux, Frankie is looked to by members of the equestrian community and brands across the globe as an industry leader and advisor. Over the past decade, Stutes and her team have worked with hundreds of brands and riders, creating some of the biggest partnerships in the industry. With a passion for helping riders and companies around the globe build their brands and businesses, Frankie assists riders in all facets of their careers and brands in all stages of development and growth.
A known face in the media, Stutes has become a high-profile broadcaster in equine sports, frequently seen on networks such as NBC, USEF Network, US Eventing, Horse&CountryTV and at numerous events across the country.
Frankie's personal riding accolades include being named to the US Team Training List multiple times for the sport of eventing, winning a National Championship, and together with her horse Chatwin, being the only combination in the WORLD (in 2018) to win two CCI4* long events.
Prior to creating her company Athletux, Stutes worked for notable brands in mainstream sports, among them Nike, The San Jose Sharks, NASCAR and Fox Sports Network.
To learn more about Athletux visit https://www.athletux.com. Follow Athletux on social media @athletux.
🔹 Be sure to register in advance to automatically receive a complimentary copy of the recording!

For more details & upcoming Professional Development Opportunities from STRIDER, visit: https://info.striderpro.com/striders-equine-business-professional-development-series-2021/

Organizer Notes
We look forward to hearing your questions during the webinar's live q & a!
Administrative Information
Ride Time:

This webinar will begin promptly at 6:00pm EST and last approximately 60 minutes including the q & a. Please register in advance to receive the Zoom link.

Trailer Direction:

N/ A - you'll receive the zoom link via email from support@striderpro.com when you register in advance!

All pre-registered attendees will automatically receive a complimentary copy of the recording

Change Policy:

Changes are not permitted.

Refund Policy:

No refunds.

Entry Option(s) Secure Spot: Pay in full via STRIDER