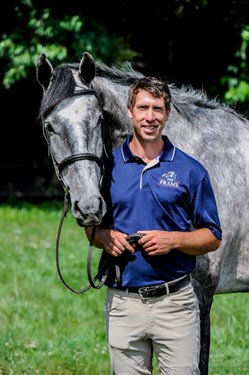 Martin Douzant Gymnastics Clinic at CoExist Stables

12/20/2020
Late entries allowed until 12/15/2020
Organizer:

Margaret McKelvy

margaret@mythiclanding.com

Eventers, Young Horses & Hunter/Jumpers are all welcome! Riders of all levels are encouraged to come!
Gymnastic and coursework exercises will help riders of all levels can perfect their basics and prepare for their 2021 goals, whatever they may be!
Martin offers lessons for every stage of competition. He loves to see others succeed, and strives to support his students in their goals. The European systems of training are foundational to how he teaches riding theory, improve balance, and develop judgment in riders. He uses interesting and engaging exercises both on and off the horse to develop confidence, balance, and comprehension of the horse's movements. reinforced by classical education in the theories of riding.
Organizer Notes
Riders "own" their slot once the schedule is made. This means riders are responsible for either filling their slot with a replacement rider, or paying for their slot.
1 Day Clinic
Instructor: Martin Douzant
$95.00
Tests/Experience
1 Day Clinic Levels
Introductory
Elementary
Beginner Novice
Novice
Training
Modified
Preliminary
Intermediate
Advanced
Poles-18"
2'3"
2'6"
2'9"
3'0"
3'6"
3'9"
4'0"
4'3"
4'6"
4'9"
5'0"+
Administrative Information
Ride Time: Ride times will be emailed out the Wednesday before the clinic. The schedule will also be posted here: https://theframesporthorses.com/our-news/.
Trailer Direction:

When you arrive you should drive up the long paved driveway and under a wooden overpass (main barn will be on your right, indoor on your left). Go past this and park in the big gravel lot on the left.

Change Policy:

Changes are permitted up to 3 day(s) before registration closes.

Refund Policy:

Refunds are permitted before registration closes.

Entry Option(s) Secure Spot: Pay in full via STRIDER Reserve Spot Via STRIDER, Mail Check