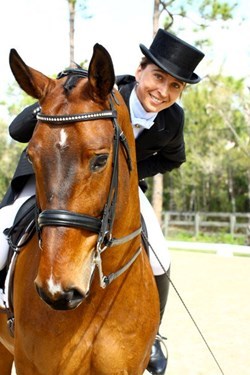 Sveltlana Gorski Biomechanics of Dressage Clinic

4/26/2019 − 4/27/2019
Late entries allowed until 4/22/2019
Organizer:

Beth Davis-Brown

bethdb@dressagedreams.com

(202) 547 - 8101
Come learn from Dressage for Fun's Svetlana Gorski! Based in Wellington, this is the first time that Svetlana will be available for lessons in the DMV area! Each day will include free lectures along with mounted lessons. Sign up for both days for maximum learning, or just come for one day. Either way, be prepared for a lot of learning! And hopefully some fun!
During the clinic, we will concentrate on clarifying the aids to ourselves and see how our horses respond. They will be the judge if Svetlana is wrong or right! We will also be asking "Why?" a lot. Why this way? Why does this happen when I do that? Why does my horse react this way? And so much more. Questions are encouraged!
Not only has Svetlana Gorski made, retrained, and competed through the highest levels of dressage, she has years of training in ballroom dancing which give her a broad understanding of coordination, body balance and fitness. Gorski has traveled extensively--Germany, Holland, Poland, Latvia, Brazil, Russia, Italy--working with some of the best horse trainers and horses around the world. She spent 3 years at the German Etoile Equestrian Academy, along with 2 years working for Henk Van Bergen and Peter Perlee in Holland. Karmic Run's Meghan Truppner has been a longtime student of Gorski's and credits her with giving her training the extra boost needed to earn her Silver Medal.
FRIDAY ONLY BONUS UNMOUNTED SESSION: 6-7pm ... only $40!
During this unmounted session, we will cover rhythm, breathing and relaxation of the rider. You will learn the correct hip movement for all three gaits, along with the coordination and rhythm needed for tempi changes and lateral work. We will also cover the hand-to-bit connection, discussing how much give is too much, but also where to release the pressure.
Organizer Notes
Discounts available for signing up for multiple lessons. Contact organizer for details.
Remember that you "own" your slot once the schedule is set (typically a week prior to the clinic). At that point you are responsible for either paying for the slot or finding a replacement rider should you not be able to attend.
Clinic-Private Session Saturday
$110.00
Clinic-Private Session Friday
$110.00
Unmounted Friday Session 6-7PM
$40.00
Semi-Private Saturday
$90.00
Semi-Private Friday
$90.00
Administrative Information
Ride Time: Organizer will email out ride times. Times will also be posted here: https://karmicrun.com/news-notes/.
Trailer Direction: Trailers should park in the main gravel lot next to the barn/indoor arena.
Cars should park on the backside of the barn.
Change Policy:

Changes are permitted up to 5 day(s) before registration closes.

Refund Policy:

Refunds are permitted before registration closes.

Entry Option(s) Secure Spot: Pay in full via STRIDER