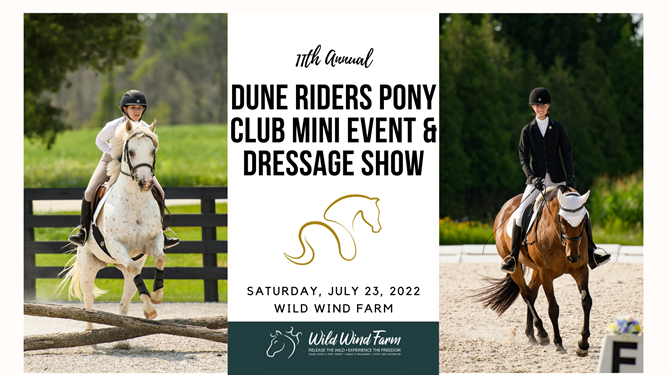 DRPC Mini Event

7/22/2022 − 7/23/2022
Organizer:

Katie Bartelt

seallegria@gmail.com

Join us for our 2022 Fun & Low Key Mini Event and Dressage schooling show. Schooling show/clinic attire recommended - XC vests required. XC schooling on Friday - clinic with DRPC instructor Tanya Months in the morning, open schooling with your own trainer in the evening. On Saturday, you can expect a welcoming environment, high-quality footing, and fully-fenced stadium and cross country courses.
READ BEFORE SUBMITTING AN ENTRY:
Click on "Invite Only" and enter the password "DRPC" in all capitals to start your entry.
Stabling
-Stalls are only available for Mini Event competitors who are schooling cross country on Friday. Stalls are first come first serve. Contact show organizer for offsite overnight stabling options.
XC Schooling Options
- If you select the $35 "XC Schooling" option, you will be signed up to ride with our DRPC coach in the morning of Friday, July 22nd
- If you select the $15 "Other" option, you will be signed up for our open XC schooling to ride with your own coach. An unmounted instructor is required to school cross country.
Non Member Fee
- Must be paid by all non DPRC members
REQUIRED DOCUMENTS:
-Wild Wind Farm barn release
-USPC Non Member relelease
-Copy of current negative coggins
-Proof of influenza vaccination within 6 months of the event
-Entry fee (StriderPay or mailed check)
-$25 cleaning deposit check (required for haul ins and stalls)
Organizer Notes
See full list of rules here: https://docs.google.com/document/d/1f9M42TwYtbDclGauITh1an-Xvq7ZymZRXLXwjAagv6w/edit?usp=sharing
STABLING: Stalls are only available to mini-event competitors who are schooling XC on Friday. Stalls are filled on a first-pay, first-serve basis, with a waitlist once the stabling is full.
REFUNDS: Withdrawls allowed before the closing date minus $25 processing fee. Refunds after closing date will be allowed only with a vet or doctors note, minus $25 processing fee. No refunds due to weather.
FOOD: DRPC hosted food stand on the grounds
Non-Member Fee

$10.00

Haul-in Fee

$10.00

Refund fee

$25.00
Tests/Experience
Horse Trials Levels
Elementary-R
Introductory
Beginner Novice
Novice
Administrative Information
Ride Time:

Ride times will be e-mailed to competitors on Wednesday before the show and posted to the DRPC website. Only complete entries will be assigned ride times. Ride times are subject to change based on entry changes or weather.

Trailer Direction:

Easy access from 1-43 following google maps. Use the furthest driveway to the East, drive past the dressage ring, and to the parking lot. Trailers park in the field next to the stalls, cars park to the north of the trailers.

Change Policy:

Changes are permitted before registration closes.

Refund Policy:

Refunds are permitted before registration closes.

Entry Option(s) Secure Spot: Pay in full via STRIDER Reserve Spot Via STRIDER, Mail Check