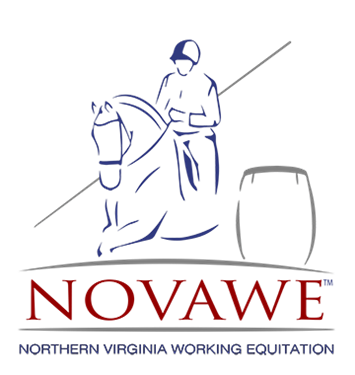 NOVAWE Working Equitation Clinic with Susan Watkins

6/16/2022 − 6/17/2022
Organizer:

Biddie Lowry

novawe.blowry@gmail.com

8034872044
This clinic is organized and offered by Northern Virginia Working Equitation (NOVAWE), an Affiliate Organization of USA Working Equitation and focuses on Working Equitation (WE) obstacles as well as flat work exercises to improve execution. This clinic is designed for those riders familiar with Working Equitation obstacles and is a great opportunity to practice your skills before the ERAHC licensed show on Saturday and Sunday. PLEASE READ ALL OF THIS DESCRIPTION AS THE DETAILS ARE IMPORTANT TO A SUCCESSFUL REGISTRATION.
This clinic opens on 4/16/22 to NOVAWE members, but may open as early as 8 pm on 4/15/22 as Strider sets the dates using Greenwich time. Clinic open to the public a few days later.
YOU MAY SIGN UP TO ATTEND ONE DAY OR BOTH DAYS.
Type one of these levels in the NOTE TO ORGANIZER BOX: Intro, Novice A, Novice B, Intermediate A, Intermediate B, etc.
ABOUT THE CLINIC:
-Four 1 hour 50 min sessions each day.
-There will be four groups of 3 riders. (Total riders each day = 12)
-Riders will be organized by ability levels when possible.
SUPER IMPORTANT! If you have already signed up to compete and stable at the ERAHC show (at FPFP) on 6/18/22 & 6/19/22 or are planning to sign up, you DO NOT NEED to pay the Stall Cleaning Fee for this clinic as you would have already paid that fee when you chose stabling for the WE show! Those participants will be assigned the same stall for the clinic and the show.
Anyone who plans on participating in this clinic, stable on site, and NOT do the show, must select the one time $15 Stall Cleaning Fee below. You can purchase shavings or bring your own.
About Susan L. Watkins:
Susan Watkins is a lifelong professional horsewoman well recognized in the Working Equitation world. Additionally, she has trained and competed in most equine disciplines from Hunters to Ranch Roping. Susan Watkins discovered Working Equitation (WE) in 2010 when it was just becoming known in the U.S. She is a USAWE Licensed "R" Judge and Technical Delegate. She has trained numerous horses for herself and clients including two BLM mustangs that earned National Championships. She has held a variety of Board of Director positions and is a WE trainer, clinician, and avid competitor.
Susan says "Because of the diversity of training needed, this is the perfect sport for horse and rider. Working Equitation requires consistent, thoughtful training to create the unity and confidence needed to do the sport correctly." Susan teaches WE at her facility in Riverside, CA and travels regularly as a clinician and USAWE Licensed Judge. She served as the judge for the July ERAHC Rated Show in New Jersey in 2021. She is committed to promoting good horsemanship and the sport of Working Equitation.
NOVAWE members can audit for free. Anyone riding in the clinic can have 1 groom/helper audit for free. Other auditors need to pay $20/day to audit.
.**** If you are traveling a great distance and need to stable Wednesday night, please email Lynsey Moritz (lynsey.mhill@yahoo.com) to make arrangements to check in. If you arrive in the late afternoon, you will not be charged for the stall for Wednesday. If you arrive early and will be there most of the day, then you need to pay for a stall on Wednesday. Most of you will not need a stall on Wednesday. Local riders will be assigned to the first session, allowing the out of state participants more time to travel on Thursday.****
Please select all of the features that you require below. The $10 office fee will be automatically included in your total.
Organizer Notes
REFUND POLICY: Clinic fee is NON-REFUNDABLE. UPDATE 5/8/22: A WAIT LIST has been created. Change to policy: Clinic Fee remains non-refundable unless someone from the WAIT LIST can fill your spot. Notify organizer if you are unable to attend so that she can check the Wait List to fill your spot and then process a refund.
IMPORTANT NOTES:
-Upload current Coggins and releases to this site or email copies to Biddie Lowry.
-All out-of-state horses must show a Certificate of Veterinary Inspection Certificate to the check in office before unloading your horse.
-Please indicate what WE Level you consider yourself in the NOTE TO ORGANIZER BOX. (Intro, Novice A, Novice B, Intermediate A, Intermediate B, etc.).
If space is available AFTER THE CLOSING DAY, you can sign up for a clinic spot, but must include a $10 late fee. Contact Biddie Lowry to sign up and arrange payment.
MEDIA RELEASE: By entering a Northern Virginia Working Equitation (NOVAWE) sponsored event, I agree that as a condition of and in consideration of acceptance of entry, NOVAWE may use or assign photographs, videos, audios, cablecasts, or other likenesses of me and my horse taken during the course of the event for the promotion, coverage, or benefit of the event or NOVAWE. Those likenesses shall not be used to advertise a product and they may not be used in such a way as to jeopardize amateur status. I hereby expressly and irrevocably waive and release any rights in connection with such use, including any claim to compensation, invasion of privacy, right of publicity, or to misappropriation.
Clinic - Day 1 (Thurs, 6/16/22)
$160.00
Clinic -Day 2 (Fri, 6/17/22)
$160.00
Stall Cleaning Fee for those stabling for clinic ONLY, and not stabling for the show on Sat & Sun.
$15.00
Wednesday Horse Stall
$25.00
Thursday Horse Stall
$25.00
Friday Horse Stall
$25.00
Wednesday Tack Stall
$25.00
Thursday Tack Stall
$25.00
NOVAWE Non-Member Auditor Fee-Thurs.
$20.00
NOVAWE Non-Member Auditor Fee -Fri
$20.00
Administrative Information
Ride Time:

Session times will be emailed to participants 5 days before the event.

Trailer Direction: Follow GPS to Frying Pan Farm Park Equestrian Center, not to the Visitor's Center. Stabling will be in Barn 1. After you unload, you will drive down to the parking lot to the left of the barn.

Change Policy:

Changes are not permitted.

Refund Policy:

No refunds.

Entry Option(s) Secure Spot: Pay in full via STRIDER