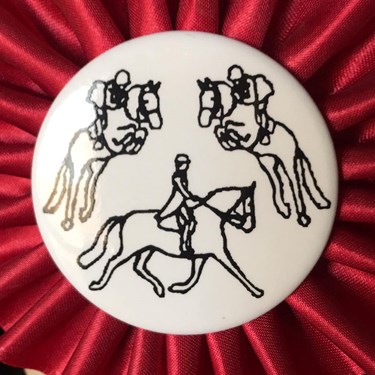 KDCTA Wednesday Night Jumper Show

7/13/2022
Organizer:

Stephanie Dobiss

kdctashows@gmail.com

8149310360
General Rules
1. Registration Booth check-in opens at 4:00 PM. Jumper Ring will start at 5:00 PM unless otherwise stated.
2. COGGINS: A copy of a negative Coggins taken within 12 months of the show date is required for each horse entered. If no proof of Coggins, you will be asked to leave the show grounds.
3. The decisions of the judges and show secretary/manager are final. USEF rules will be followed.
4. AGE: As of January 1st Jr Riders = 18 years & under, Sr. Riders = 19 years and up.
5. The show management reserves the right to cancel, combine, add or divide classes if conditions warrant.
6. DRESS: Dress will be casual, but suitable boots and an ASTM certified helmet are required for every rider while mounted anywhere on show grounds. Paddock boots and half chaps are allowed. Full chaps are not allowed.
Stabling and Parking
1. STABLING: There are no stalls available.
2. PARKING: Trailer parking only in designated areas.

Fees
3. MANDATORY GROUNDS FEE: per horse/rider combo on the grounds. Be sure to select the appropriate grounds fee when registering.
$20 Non-member Adult Rider
$15 Non-member Jr Riders
$10 KDCTA members Adult & Jr Rider
4. CLASS FEES:
Jumping: $20 per class
Post entry fee: $20 /horse-rider
Scratches: after closing date will incur a $20 office fee
5. REFUNDS & CLASS CANCELLATIONS: In the case where a horse has been entered and not shown in a Jumper class, fees will be forfeited. Refunds will only be made with a vet certificate or if canceled prior to closing date.
6. PAYMENTS: All payments are taken through StriderPro.com. Use a Credit card or PayPal.
7. All Competitors need to check out at the registration office before leaving the show grounds.
Awards
1. 1st-6th place and Champion/Reserve Champion in each Division

Organizer Notes
No food on site.
1. Puddle Jumpers A, Table 2 Sec B(a) 2' to 2'3"
$20.00
2. Puddle Jumpers B, Table 2 Sec B(a) 2' to 2'3"
$20.00
3. Special Jumpers A, Table 2 Sec B(a) 2'6" to 2'9"
$20.00
4. Special Jumpers B, Table 2 Sec B(a) 2'6" to 2'9"
$20.00
5. Low Jumpers A, Table 2 Sec B(a) 2'9" to 3'
$20.00
6. Low Jumpers B, Table 2 Sec B(a) 2'9" to 3'
$20.00
7. Mid Jumpers A, Table 2 Sec B(a) 3' to 3'3"
$20.00
8. Mid Jumpers B, Table 2 Sec B(a) 3' to 3'3"
$20.00
9. High Jumpers A, Table 2 Sec B(a) 3'6" to 3'9"
$20.00
10. High Jumpers B, Table 2 Sec B(a) 3'6" to 3'9"
$20.00
GROUNDS FEE - KDCTA Members

$10.00

GROUNDS FEE - Non member Jr. Rider

$15.00

GROUNDS FEE - Non member Adult Rider

$20.00
Administrative Information
Ride Time:

First class starts at 5pm

Trailer Direction:

Trailer and car parking in designated field.

Change Policy:

Changes are not permitted.

Refund Policy:

No refunds.

Entry Option(s) Secure Spot: Pay in full via STRIDER