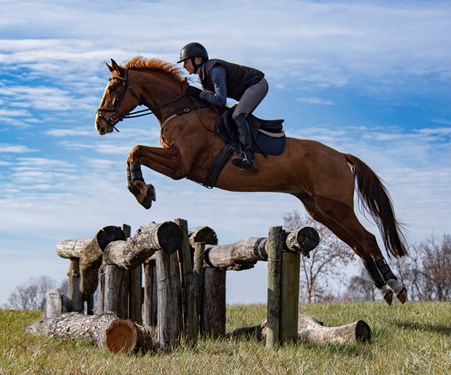 Covid-safe XC schooling at Windchase
3/1/2020 − 12/1/2020
Organizer: Phyllis Dawson
Windchase will now accept appointments for covid-safe no contact XC schooling, following strict social distancing protocols.
Participants will not be allowed to come into the barn at all. Please avoid all contact with Windchase staff and clients. Payment and release forms must be done online through Strider before you come to school. Bring your own water. We can provide you a map and show you where to go, but please avoid touching anything unnecessary, or close contact.
If the pandemic gets worse and we have to close the course, any unused schooling fees that have been paid will be refunded.
See Organizer Notes for more Covid Precautions.
Windchase's fabulous cross-country course is now open for schooling by appointment.
Come ride over our one-hundred acre XC course, with excellent turf and over 300 XC jumps. We have everything you need to school a horse, from Intro up through Intermediate/Advanced.
Featuring a large water complex, banks, mounds, coffins, trakehners, ten different ditches, a picture frame and an Irish bank. Lots of narrows, corners, portable fences, oxers and tables.
🌳 Ride in a picturesque setting over rolling hills and open fields at the base of the Blue Ridge mountains. 🌳
Cost is $50 per horse and rider combo. $45 for current Pony Club and 4-H members. Ten percent discount if you are accompanied by a current certified ICP Instructor.
Trainers discounts available. Plus, Trainers, bring 4 or more students and school your horse for free.
Sign up through Event Clinics and state your preferred time/date in the Note to Organizer at least 24 hours in advance. Please note: We protect our excellent footing, so schooling will not be allowed when the ground is very wet.
We'll email you to confirm ground conditions and that course is open.
Need a quicker answer? Email pwindchase73@gmail.com or text 540-454-3834 to let us know what day and time you want to school.
🔹Add Ons:🔹
Instruction available from the Windchase trainers if you arrange it with us in advance.
--Add on Private lesson with a Windchase Trainer for an additional $70.
--Add on Semi-Private lesson with a Windchase Trainer for an additional $50 per horse/rider.
--Add on Group lesson with a Windchase Trainer for an additional $45 per horse/rider.
🔹Facility Rules🔹
--Riders may NOT school alone; if you not with other riders you must bring a ground person.
--All riders must wear an ASTM/SEI approved helmet and body protector.
--Water is available on site.
--All riders must sign a Windchase release form. Minors must have form signed by parent or guardian.
--Please leave your dogs at home - we have a lot of them already!

Organizer Notes
Phyllis Dawson

pwindchase73@gmail.com

540-668-6024 barn, 540-454-3834 cell
Here is a review of our virus protocol:
• Please do not come to Windchase if you are feeling ill or have any symptoms, or have been exposed to anyone who
does. Please do not come to the farm if you have been traveling, or flown in the last 10 to 14 days, or been exposed to
crowds, or anyone who is sick.
• You all know the recommendations: Avoid crowds, restaurants, bars, etc. Be careful at the grocery store, sanitize
everything, wash hands constantly, don't go out any more than necessary, and stay six feet away from everyone. Hopefully
you are all following this protocol all the time. If you are not, please avoid coming to the farm.
• Pleases sanitize hands thoroughly before getting out of your vehicle, and try not to touch anything you don't have
to. Keep a social distance of least ten feet from Windchase staff and clients.

• Please avoid touching or handling the dogs and cats. I have been unable to teach them about social distancing, so
they cannot be trusted not to transmit germs to their owners.

• You will not be able to enter any of the barns or buildings at Windchase. Bring your own water, and anything else
you need. We would prefer you to not use the bathroom; better if you pee in your trailer! (If you have a bathroom
emergency where you must use the facility, please let us know so we can disinfect afterwards.)
• A release form for each rider must be signed and submitted online, through Strider. Payment must be made
online through the Strider website. We can supply a map if needed, and show you where to go and what portions of the
course are open, depending on footing.
• If the Covid situation worsens and we have to close the course, any unused fees that have been paid will be
refunded.
• Thank you for your cooperation, and Stay Safe!
Tests/Experience
Other Levels
Introductory
Elementary
Beginner Novice
Novice
Training
Preliminary
Intermediate
Administrative Information
Ride Time: Email pwindchase73@gmail.com or text 540-454-3834 to let us know what day and time you want to school, and to check ground conditions and course status.

Trailer Direction:

The address is: 36502 Kidwell Road, Purcellville (or Hillsboro), VA 20132

When you turn up Kidwell Road, we are the 4th drive on the right. The number is 36502, and it says Windchase on the mailbox and rock sign. At the house, bear left and go back past the lake to the stables. Please drive slowly and watch for speed bumps and dogs.

PLEASE NOTE: If you are coming from Leesburg or the East and traveling up Route 9, there is ongoing construction in Hillsboro - expect delays of 20 minutes or more. Please plan accordingly.
At times route 9 will be closed altogether - but we do not know in advance which days it will be closed.
To avoid this construction, if you are traveling from the Leesburg area, stay on Route 7 to Round Hill, and cut through on 719 north (Woodgrove Rd), then left on 751 (Cider Mill Rd), which will bring you out to turn left on Route 9 – you will be west of Hillsboro, thereby missing the construction. From there, right on 671, and left on Kidwell. Email me at pwindchase73@gmail.com if you need more detailed info or a map.
Change Policy:

Changes are permitted up to 0 day(s) before registration closes.

Refund Policy:

Refunds are permitted up to 3 day(s) before activity begins.

Entry Option(s) Secure Spot: Pay in full via STRIDER