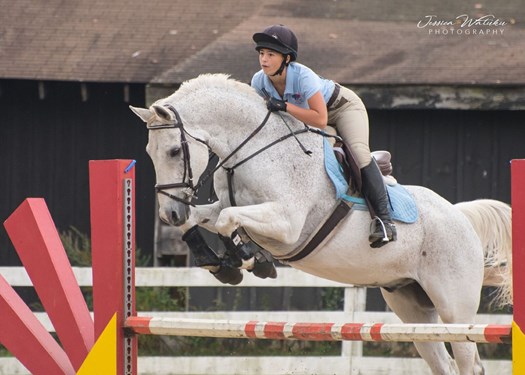 2 Phase, Jumper, and Dressage Show

9/20/2020
Organizer:

Jess Halliday

jlhalliday@comcast.net

19788752036
Join us for a fun (socially distanced) schooling two phase, dressage, and jumper show! Low key atmosphere. Levels for all. Ribbons, prizes, and fun! Weather depending-SJ will be on grass (otherwise in outdoor) . Participants will need to follow current COVID policies (will be emailed to all entries). Casual attire. Professionally designed courses. Top quality dressage judge and great feed back. Plus premiering the 21+ "I tried my best" adult ammie division (you make your dressage test-limited requirements and you pick your jump height.) with epic prizes. Please specify!
2 Phase Divisions: $65
-Itty Bitty: Intro A & Groundpoles
-Pre Ele: Intro B & xrails
-Ele: BN A & 2'
-Advanced Ele: BN A & 2'3
-Beg Novice: BN B & 2'7
-Novice: N B & 2'11
-Training: T B & 3'3
-Modified: M A & 3'5
-Prelim: P A & 3'7
-"I tried my best" 21+ Adult Ammie Division (make your own test & pick your jump height!)
Dressage only divisions: $25
Intro A
Intro B
BN A
BN B
Novice B
Training B
Modified A
Prelim A
Jumper Divisions: (optimum time) $25
-Groundpoles
-Xrails
-2'
-2'3
-2'7
-2'11
-3'3
-3'5
-3'7
Space is limited so enter early! Contact Jess at JLHALLIDAY@comcast.net!
Organizer Notes
2 Phase Itty Bitty
$65.00
2 Phase Advanced Ele
$65.00
Drsg Only Novice B
$25.00
Drsg Only Training B
$25.00
Drsg Only Modified A
$25.00
Drsg Only Prelim A
$25.00
Baile Hill Farm Coaching

$25.00

Baile Hill Farm Horse Use (approve first)

$25.00
Administrative Information
Ride Time:

Ride times will be emailed along with COVID policies

Trailer Direction: Easy off all major highways
Follow parking instructions
Change Policy:

Changes are not permitted.

Refund Policy:

No refunds.

Entry Option(s) Secure Spot: Pay in full via STRIDER