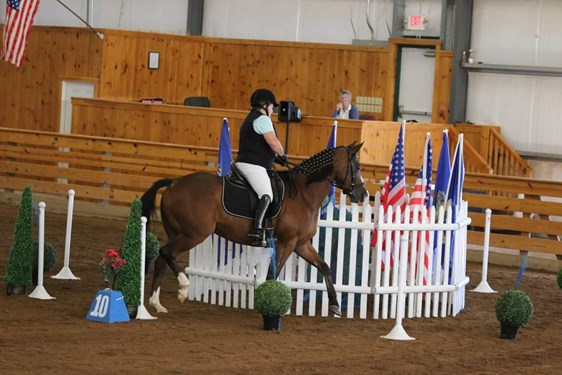 KDCTA Dressage & Working Equitation Schooling Show

9/24/2022 − 9/25/2022
Organizer:

Stephanie Dobiss

kdctashows@gmail.com

814-931-0360
General Rules
1. Registration Booth opens at 8:00AM. All Rings start at 10:00 AM on Saturday unless otherwise stated. Sunday Ride times will be posted.
2. Dressage Classes and WE Divisions must be pre-registered and prepaid. Post entries, if available, will be filled on a first come, first serve basis.
3. The decisions of the judges and show secretary/manager are final. USEF/USAWE rules will be followed.
4. The show management reserves the right to cancel, combine, add or divide classes if conditions warrant.
5. AGE: As of January 1st Jr Riders = 18 years & under, Sr. Riders = 19 years and up.
6. DRESS: Dress will be casual, but suitable boots and an ASTM certified helmet are required for every rider while mounted anywhere on show grounds. Dressage or Western attire is encouraged but not required. Paddock boots and half chaps are allowed. Full chaps are not acceptable in English Dressage classes.
7. ALL DOGS must be leashed at all times.
8. STALLIONS: Must be well mannered and pre-registered.
9. No staples, tape, nails or screws on wood, doors or any place else throughout the
Facility, including stalls.
10. All Dressage Rides must be pre-paid. Dressage ride times assigned only upon receipt of payment & forms.
11. COGGINS: All horses entering Grange Park Equine Center must have valid proof of negative Coggins Test (within 12 months). A 30-day certificate of veterinary inspection (CVI) is required for all horses arriving from outside the state of Pennsylvania; for all horses within the state, a 6-month CVI must be available upon request. You must be able to produce these documents upon request. If no proof of Coggins/CVI, you will be asked to leave the show grounds. These documents can be uploaded to your Strider account, then can be attached to the show you wish to attend.
12. Scratches after the closing date will incur a $20 office fee unless verified by a veterinarian.
13. CLOSING DATE: September 16th.
14. ***All competitors need to check out at the office before leaving***
Stabling and Parking
1. ARRIVAL: No arrivals before 4pm on Friday. Any horses arriving on Friday cannot be ridden or worked anywhere on the grounds. Hand walking on the roadway is permissible. Use of any rings or arenas on Friday is strictly prohibited. Sat arrivals stop at stall office for directions.
2. STABLING: Stalls & Shavings must be requested on pre-registration entry form. No straw bedding allowed. Stalls do not need to be cleaned prior to departure. No nails or staples or fans are allowed. No cooking or sleeping in the barns is allowed. Additional shavings must be requested from the show manager or stall manager. Please include stabling requests in notes to organizer when registering.
3. PARKING: Trailer parking only in designated areas. No trailers next to barn except for unloading/loading.
4. CAMPING/RV's: Must provide vehicle and license plate info upon arrival.
Fees
1. GROUNDS FEE: per horse/rider combo on the grounds. BE SURE TO SELECT THE APPROPRIATE GROUNDS FEE WHEN REGISTERING
$10 KDCTA members Adult & Jr Riders
$15 Non-member Jr Riders
$20 Non-member Adult Riders
2. CLASS FEES:
Dressage: $30 per test
Freestyle: $30 per test (please have one person sign-up and pay for MFS in the case of multiple riders)
Working Equitation: $75 per horse/rider combination Intro Level;
$95 per horse/rider combination Novice and above.
Post entry fee: $20 /horse-rider for entries submitted after the closing date.
Stall Fees: $35 per day for horse/tack stall.
One stall on: Sat only=$35, Fri/Sat=$70, Sat/Sun=$70, Fri-Sun=$90
Shavings: $7 per bale of shavings
3. CAMPING/RV's: $50 per night. Includes electric and water hook-ups and one free dump at the Dump Station. 30- and 50-amp service is available.
4. REFUNDS & CLASS CANCELLATIONS: In the case where a horse has been entered and not shown in a Dressage class, fees will be forfeited. Refunds will only be made with a vet certificate or if canceled prior to closing date minus $20 office fee.
5. PAYMENTS: All payments are taken through StriderPro.com. Use a Credit card or PayPal.
6. ***All Competitors need to check out at the registration office before leaving the show grounds.***

Specific Rules for Dressage Classes
1. TESTS: Readers are permitted for all tests. USDF 2019 Intro tests and USEF 2019 Training Level and above, 2019 WDAA tests, and USAWE Working Equitation tests will be used. (Links to TESTS can be found at KDCTA.org) No Horse/Rider combination may enter more than two consecutive dressage levels. Higher level tests or other types of dressage tests may be ridden upon request. All Dressage Classes must be pre-registered/pre-paid. Tests will be ridden in the appropriate Large & Small arenas.
2. COPIES OF DRESSAGE TESTS are available upon request from the show secretary for $1 per test or may be printed from the USDF, USEF/USEA, WDDA, and USAWE websites.
3. TOC—Any dressage test not listed may be ridden as Test of Choice. Rider must supply 2 copies of the test at registration.
4. MUSICAL FREESTYLE & QUADRILLE: May ride test of choice or create your own. Any number of riders allowed. Music must be at the announcer's stand 1 hour prior to class. CD format or USB Flash Drive.
5. RIDE TIMES will be posted on the website 72 hours before the show. www.KDCTA.org
6. All tests will be ridden in the appropriate large or small dressage arena.
7. Dressage entries may be considered after closing date will be charged a late fee ($20) and will be considered only if spots available. Contact the Show Manager.
Specific Rules for Working Equitation
1. WE Dressage tests will be ridden on Saturday in the small arena.
2. Ease Of Handling and Speed Rounds will be ridden on Sunday.
3. EOH and Speed maps will be available on Saturday.
4. There will be no cattle trial.
Awards
1. DRESSAGE SHOW: All dressage tests will be placed using the Danish System. 1st-6th place based on score.
2. WORKING EQUITATION SHOW: 1st - 6th place in each trial in each level. Champion and Reserve Champion in each Level.
3. FOXFIRE MEMORIAL TROPHY: Anyone of any age can sign up. Must be taking at least 2 dressage lessons a month. Ribbon awarded to highest average of 2 or more dressage tests. Free-Sign up-class #25.
We Have FOOD!
Sat Night Pre-paid Dinner $15 per person
½ BBQ Chicken, sides, drinks, cookies & cake
The Tucker Box & Happy Dishes Food Trucks will be on site Sat & Sun
with unique and yummy food and drink selections.
East Ridge Tack shop will be on site.
Photographer on site!
https://www.facebook.com/katerebeccaphoto
Kate Rebecca Photography will be our official event photographer. She is an Equine Photographer serving Pennsylvania and surrounding states. Kate has been published in multiple photographer magazines as well. Please reach out to Kate directly for your questions. katerlove99@outlook.com or 724-757-5257.
Please do not distract her during the show, unless there is a break. Thank you!
Two Options for Photographs:
1- $45 Prepaid Deposit: [Sign up at registration for Show] Option 1 includes 5 images of your choice. Gallery consists of 10-20 images and will be privately emailed to you within 1-2 weeks from event. All images in gallery are edited before client views them. Additional images can be purchased for $4 an image thereafter. Final images will be emailed to you via WeTransfer. Prepaid must be paid no later than closing date of the show. Requests made after the closing date time will not be accepted for Prepaid option.
2- $20 Gallery Fee for Non-Prepaid: [Contact Kate directly for this option after the show] Option 2 includes 1 image of your choice. Gallery consists of 5-10 images and will be privately emailed to you 1-2 weeks from the event. All images in the gallery are edited before client views them. Additional images can be purchased for $10 an image thereafter. Final images will be emailed to you via WeTransfer.
Please make sure you provide your email on your entry form for the show.
By entering the competition, competitors are giving KDCTA permission to take photographs and to use those photographs in promotion of this event and future events.
KDCTA is a USDF Group Member Organization and USAWE Affiliate Organization
Join KDCTA via our website www.KDCTA.org
Organizer Notes
REFUNDS & CLASS CANCELLATIONS: In the case where a horse has been entered and not shown in a Dressage class, fees will be forfeited. Refunds will only be made with a vet certificate or if canceled prior to closing date minus $20 office fee. Refunds will be made within 2 days after the show.
See Show program for all details.
Grounds Fee-KDCTA Members
$10.00
Grounds Fee-Youth Non Member
$15.00
Grounds Fee-Adult Non Member
$20.00
46. WE Intro Level 1
$75.00
47. WE Novice A Level 2
$95.00
48. WE Novice B Level 3
$95.00
49. WE Intermediate A Level 4
$95.00
50. WE Intermediate B Level 5
$95.00
1. DR Intro Test A Jr
$30.00
2. DR Intro Test B Jr
$30.00
3. DR Intro Test C Jr
$30.00
4. DR Intro Test A Sr
$30.00
5. DR Intro Test B Sr
$30.00
6. DR Intro Test C Sr
$30.00
7. DR Training Test 1 Jr
$30.00
8. DR Training Test 2 Jr
$30.00
9. DR Training Test 3 Jr
$30.00
10. DR Training Test 1 Sr
$30.00
11. DR Training Test 2 Sr
$30.00
12. DR Training Test 3 Sr
$30.00
13. DR First Test 1
$30.00
14. DR First Test 2
$30.00
15. DR First Test 3
$30.00
16. DR Second Test 1
$30.00
17. DR Second Test 2
$30.00
18. DR Second Test 3
$30.00
19. DR Test of Choice
$30.00
20. USEA Beginner Novice A
$30.00
21. USEA Beginner Novice B
$30.00
24. USDF Musical Freestyle
$30.00
26. WD Intro Test 1 Jr
$30.00
27. WD Intro Test 2 Jr
$30.00
28. WD Intro Test 3 Jr
$30.00
29. WD Intro Test 4 Jr
$30.00
30. WD Intro Test 1 Sr
$30.00
31. WD Intro Test 2 Sr
$30.00
32. WD Intro Test 3 Sr
$30.00
33. WD Intro Test 4 Sr
$30.00
34. WD Basic Test 1 Jr
$30.00
35. WD Basic Test 2 Jr
$30.00
36. WD Basic Test 3 Jr
$30.00
37. WD Basic Test 4 Jr
$30.00
38. WD Basic Test 1 Sr
$30.00
39. WD Basic Test 2 Sr
$30.00
40. WD Basic Test 3 Sr
$30.00
41. WD Basic Test 4 Sr
$30.00
42. WD Level 1 TOC
$30.00
43. WD Level 2 TOC
$30.00
44. WD Level 3 TOC
$30.00
45. WD Musical Freestyle
$30.00
1 Day Horse Stall

$35.00

1 Day Tack Stall

$35.00

2 Days Horse Stall

$70.00

2 Days Tack Stall

$70.00

3 Days Horse Stall

$90.00

3 Days Tack Stall

$90.00

Shavings per bag

$7.00

2 Days Camping/RV

$100.00

3 Days Camping/RV

$150.00

Sat Night Dinner

$15.00

Prepaid Photos Deposit

$45.00
Administrative Information
Ride Time:

Ride times will be posted on KDCTA.org website and emailed 72 hours prior to show

Trailer Direction:

Check in at the stall office upon arrival.

Change Policy:

Changes are permitted before registration closes.

Refund Policy:

Refunds are permitted before registration closes.

Entry Option(s) Secure Spot: Pay in full via STRIDER