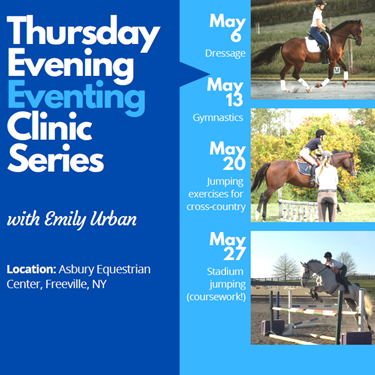 Thursday Evening EVENTING Clinic Series

5/6/2021 − 5/27/2021
Organizer:

Emily Urban Cordeiro

urbanemilyr@gmail.com

4843369995
Join us throughout the month of May for the Thursday Evening Eventing Clinic Series with Emily Urban Cordeiro. Whether you are completely new to eventing or preparing for the 2021 competition season, we have something for you this clinic series! Non-eventers are also welcome to join us to improve their flatwork as well as skills over fences.
Each of the 4 clinics will have a specific focus. Mix-or-Match OR attend them all!
Week 1 (May 6th): Dressage
Week 2 (May 13th): Gymnastics
Week 3 (May 20th): Jumping exercises for Cross-Country
Week 4 (May 27th): Stadium jumping (coursework)
Dressage sessions (Week 1) will either be 45 min private or 1 hour semi-private. Jumping sessions (Weeks 2-4) will be around 1.5 hours with groups of around 3 riders. Please specify a jumping height at registration [x-rail, 2', 2'3", 2'7" (Beginner Novice), 2'11" (Novice), or above]. Ride times will be emailed, with rides starting at 3:30 pm. Please call/text/email Emily with any scheduling concerns (i.e. need a later session, etc).
FEE: $75 per session (includes facility fee)
ABOUT EMILY: Emily is an experienced equestrian and instructor who enjoys supporting the development of both horses and riders. Her experience working for top riders in the eventing, dressage, and show jumping worlds has given her the expertise to help riders of all ages gain confidence and develop foundational skills, as well as prepare young horses for careers in various disciplines.
She has worked for multiple top event riders, including 6-time Belgian Olympic event rider, Karin Donckers, in Belgium. Emily also graduated pony club with her H-A from the Eastern PA region. But most importantly, like us all, is life-time learner and does it all for the love of the horse. Read more here: https://www.emilyurbanequestrian.com/about.html

Organizer Notes
Please sign a waiver for Emily and a waiver for the facility (Hard copies will also be available the day of). For Weeks 2-4, please specify a jumping height at registration [x-rail, 2', 2'3", 2'7" (Beginner Novice), 2'11" (Novice), or above].
Refunds available up to one week in advance.
Administrative Information
Ride Time:

Ride times will be emailed.

Trailer Direction:

Please enter and follow the driveway to the LEFT of the main barn. Turn LEFT at the small bridge to park on the grass facing the outdoor ring.

Change Policy:

Changes are permitted up to 3 day(s) before registration closes.

Refund Policy:

Refunds are permitted up to 7 day(s) before activity begins.

Entry Option(s) Secure Spot: Pay in full via STRIDER