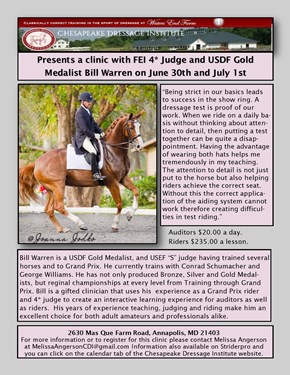 Bill Warren Clinic

6/30/2022 − 7/2/2022
Organizer:

Melissa Angerson

MelissaangersonCDI@gmail.com

4438752063
Bill Warren is a USDF Gold Medalist, and USEF "S" judge having trained several horses and to Grand Prix. He currently trains with Conrad Schumacher and George Williams. He has not only produced Bronze, Silver and Gold Medalists, but reginal championships at every level from Training through Grand Prix. Bill is a gifted clinician that uses his experience as a Grand Prix rider and 4* judge to create an interactive learning experience for auditors as well as riders. His years of experience teaching, judging and riding make him an excellent choice for both adult amateurs and professionals alike.

Organizer Notes
Auditors are welcome day of the clinic as walk-ins for $20.00
**Box lunches are an additional charge--see lunch menu forms
**All riders must fill out paperwork, email coggins/flu rhino and pre-pay to secure a riding spot.
**All auditors that would like to purchase the box lunch must pre-pay.
Please park in the parking lot in front of the barn or on the gravel road (not on the grass--trailers only on the grass)
Please do not hesitate to email Melissa Angerson and MelissaAngersonCDI@gmail.com with questions or for more information.
1 Day Clinic
Instructor: Bill Warren
$235.00
2 Day Clinic
Instructor: Bill Warren
$235.00
3 Day Clinic
Instructor: Bill Warren
$235.00
Day Stall

$25.00

Full Stabling

$45.00

Shavings

$8.00

Food

$20.00

Photo/Video Option

$25.00
Tests/Experience
1 Day Clinic Levels
Training Level Dressage
1st Level Dressage
2nd Level Dressage
3rd Level Dressage
4th Level Dressage
FEI Dressage
2 Day Clinic Levels
Training Level Dressage
1st Level Dressage
2nd Level Dressage
3rd Level Dressage
4th Level Dressage
FEI Dressage
Administrative Information
Ride Time:

Ride times will be posted her and on the Chesapeake Dressage Facebook page one week before the clinic.

Trailer Direction:

Gates open automatically. Please pull up close. Please park trailers in the grass in front of the building.

Change Policy:

Changes are not permitted.

Refund Policy:

No refunds.

Entry Option(s) Reserve Spot Via STRIDER, Mail Check