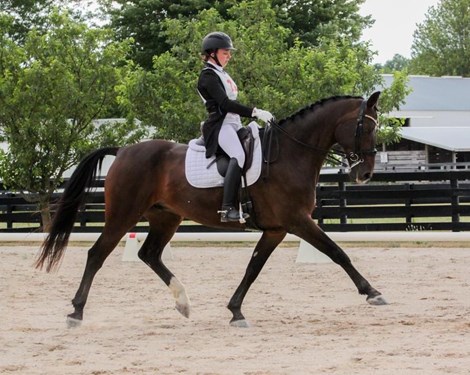 Run O' the Mill Dressage & Combined Training Show

5/29/2022
Organizer:

Shelley Nevins

runothemillponyclub@gmail.com

262-370-8196
Dressage and Combined Training Show
What is a Combined Training Test? The horse and rider combination ride a dressage test and complete a stadium jumping round, then the penalty points are are combined for one score.
Dressage Tests: USDF 2019 Intro tests, USEF 2019 Training, First & Second Level tests, WDAA 2022 Intro, Basic & Level 1 tests
Combined Training: Walk/Trot - 2019 USDF Intro A and Ground Poles
Pre-Starter - 2019 USDF Intro B and Cross Rails
Starter - 2022 USEA Beginner Novice Test A and 2' Stadium round
Beginner Novice - 2022 USEA Beginner Novice Test A and 2'7" Stadium round
Novice - 2022 USEA Novice Test A and 2'11" Stadium round
Classes pinned through eight places.
High Point awarded in each division.
Tip Awards (Must have TIP # prior to show and notify secretary of participation in TIP)
Dressage: High Point Dressage Thoroughbred(Overall)
Combined Training: Low Score CT High Point Thoroughbred Award
Food stand on grounds.
Please make sure to check the boxes for any additional fees: Office fee (REQUIRED), stall OR trailer in (must select one or the other), optional extra shavings.
Printable class list and show details at www.rompc.org
Organizer Notes
No changes after closing date. Vet note required for refunds after closing date, less $20 office fee.
Current negative Coggins and proof of vaccination per USEF rules required for all horses on show grounds. Please email these to runothemillponyclub@gmail.com
Show attire requested.
Boots & Helmets REQUIRED for all riders.
Number required when mounted.
Will follow USEF rules.
No Stallions Allowed
Printable class list and show details at www.rompc.org
USEF Training Level Test 1
$20.00
USEF Training Level Test 2
$20.00
USEF Training Level Test 3
$20.00
USEF First Level Test 1
$20.00
USEF First Level Test 2
$20.00
USEF First Level Test 3
$20.00
USEF Second Level Test 1
$20.00
USEF Second Level Test 2
$20.00
USEF Second Level Test 3
$20.00
WDAA Level 1 Test 1
$20.00
WDAA Level 1 Test 2
$20.00
WDAA Level 1 Test 3
$20.00
WDAA Level 1 Test 4
$20.00
USDF Musical Freestyle or Pax de Deux
$25.00
WDAA Musical Freestyle
$25.00
Combined Test - Walk/Trot (USDF Intro A & Ground Poles)
$40.00
Combined Test - Pre-Starter (USDF Intro B & Cross Rails)
$40.00
Combined Test - Starter Novice (USEA Beg. Nov. A & 2' Jumps)
$40.00
Combined Test - Beginner Novice (USEA Beg. Nov. A & 2'7" Jumps)
$40.00
Combined Test - Novice (USEA Nov. A & 2'11" Jumps)
$40.00
Office Fee - REQUIRED

$20.00

Stall Fee - Includes 1 bag of shavings

$50.00

Additional bag of shavings

$10.00

Haul in fee

$20.00

Junior Rider (under 18)

FREE

Amateur Adult Rider (over 18)

FREE

Open (not Am Ad or Jr)

FREE
Administrative Information
Ride Time:

Ride Times will be emailed one week prior to the show.

Change Policy:

Changes are permitted before registration closes.

Refund Policy:

Refunds are permitted before registration closes.

Entry Option(s) Secure Spot: Pay in full via STRIDER