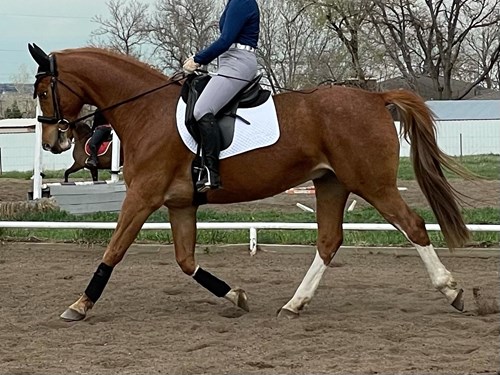 Foothills First Saturday Clinic with Kathleen Donnelly

10/2/2021
eWaiver Link(s)

Organizer:

Hillary Ross

foothillsrmds@gmail.com

8186531700
Join us for the first in our series of Foothills "First Saturday" clinics with 45 minutes of private instruction from Kathleen Donnelly, L-level judge and instructor.
Organizer Notes
ALL haul-ins must provide: 1) negative Coggins within 12 months of event, 2) 30-day health certificate, 3) proof of immunization within 6 months of event with your registration, and 4) TMR's liability waiver. These documents may be uploaded to this site or emailed to event organizer.
To request an AM or PM ride time, please email the event organizer. Every effort will be made to accommodate requests, on a first come, first served basis, but we cannot guarantee requests will be honored.
No refunds will be provided unless we can fill your spot from the waitlist or if you can find a replacement.
Registrations are not complete until payment is received by the event organizer.
When paying online with a credit card or PayPal, please note that a small non-refundable convenience fee will be added at checkout.
Checks can be mailed to: Hillary Ross, 11170 E. 26th Ave., Aurora, CO 80010
1 Day Clinic
Instructor: Kathleen Donnelly
$110.00
Tests/Experience
1 Day Clinic Levels
Training Level Dressage
1st Level Dressage
2nd Level Dressage
3rd Level Dressage
4th Level Dressage
FEI Dressage
Administrative Information
Ride Time:

Ride times will be provided to registrants 48 hours in advance.

Trailer Direction:

We are located approximately 1/4 mile East of Hwy 93. Turn on Culebra Drive at the entrance to the Wild Horse housing subdivision.

Please park trailers in the cross country field between 58th Avenue and the outdoor arenas. Cars may park in the parking lot on the south side of the indoor.

Warmup will be in the large outdoor arena.

Change Policy:

Changes are not permitted.

Refund Policy:

No refunds.

Entry Option(s) Secure Spot: Pay in full via STRIDER Reserve Spot Via STRIDER, Mail Check