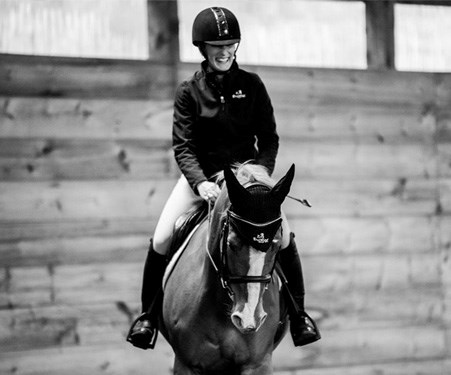 Stall and Stable Developing Riders Clinic with Chelsea Canedy

3/20/2021
Organizer:

Stall and Stable

email@stallandstable.com

(401) 525-6383
* * * RIDING SPOTS FULL - Auditors still welcome!
Stall and Stable invites you to a mini-clinic with Chelsea Canedy of Canedy Horsemanship and Performance. If you have riding goals for 2021, this is a clinic you will not want to miss! 
"As an upper-level Eventer, Chelsea is an amazing rider and one of the most effective, well-rounded instructors I've ever met. She is patient and kind, while able to help riders figure out a direct path to their individual goals." - Helena Harris
Before meeting Chelsea for your lesson, you will have a chance to share your goals, your horse's strengths and weaknesses, and describe to her how you learn best. This creates a truly customized experience during your lesson.
YOUR OPTIONS:
* Private sessions are 45 minutes each ($125)
* Semi-private (2 riders) are 1 hour each ($100)
* Audit ($15)
* Hunt Seat Flat
* Dressage
* Pole Work and Gymnastics
* Groundwork / Horsemanship
* Problem-solving
As a U.S. Pony Clubber and accomplished competitive rider, Chelsea incorporates her unique and extensive experience as she guides you through physical and mental exercises to improve your flat work, jumping, cross country strategies, and dressage. If you are struggling with confidence issues, training challenges, anxiety, young horses, or just ready to start hitting those competitive milestones, you will get a lot out of your session.
The clinic will be held at the super friendly Seapowet Stables in Tiverton, Rhode Island. There is a huge outdoor sand ring, comfortable indoor arena with GGT footing, and easy access from barn and trailers to clinic area. A heated lounge, restrooms, and new friends await you at Seapowet!
Organizer Notes
CANCELLATIONS / REFUND POLICY - No refunds. Substitutions may be permitted with approval by clinic organizers at least 5 days prior to the start date of the clinic.
TRUCK-INS WELCOME - Trailer access and parking is available at Seapowet Stables.
COVID REQUIREMENTS - Stall and Stable and Seapowet Stables are bound by the laws of the state of Rhode Island relating to COVID-19 safety protocols. Face masks and social distancing will be required as directed by the Rhode Island Department of Health on the date of this event.
Administrative Information
Ride Time:

A list of available ride times for you to select will be emailed to you upon receipt of payment (via online registration).

Trailer Direction: https://goo.gl/maps/mVG999cQzANdc57D8

Change Policy:

Changes are permitted up to 5 day(s) before registration closes.

Refund Policy:

No refunds.

Entry Option(s) Secure Spot: Pay in full via STRIDER