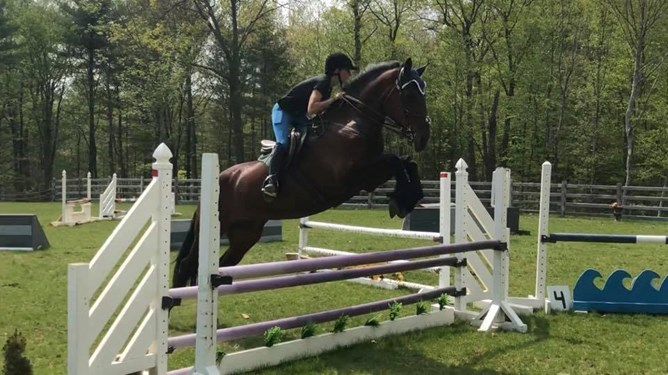 Oakendale Farm Summer Eventing Experience

6/20/2022 − 6/24/2022
Organizer:

Alison McCallum

alisonmccallum2@gmail.com

8609444460
Oakendale Farm
Summer Eventing Experience
June 20 - 24, 2022
Eventing
Dressage
How to maximize your dressage score.
Learn what the judges are looking for.
How to read and memorize a test.
Review Dressage rules!
Show Jumping
How to ride a better course.
Learn to walk a course.
Ride courses accurately.
Show Jumping rules!
Cross Country
Horse conditioning.
Learn to & practice galloping.
Learn to use an eventing watch.
Cross Country safety & rules.
Horse Management
Learn & practice skills in the barn.
Tack, types of saddles, bridles, bits, martingales & boots.
Braiding, clipping
Studs
Wrapping
TPR before, during and after exercise
Packing for a horse show
Horses
You can ride one of our school horses or ask about bringing your own!
Our school horses range from 12 hand ponies to 16.3 hand horses.
Sign up for our horse show at the end of the week!
Time: 9am - 1pm
Age: 6 - 18
Pricing: $450 ($250 deposit due with registration and $200 due 6/1/22)
Experience: Riders should have established an independent position and started over fences through experienced eventers. There is always something to practice!
Attire: Campers are required to wear boots with a hard flat sole and 1/2 inch heel that covers the ankles (a paddock boot). SNEAKERS ARE NOT ALLOWED. Long close fitting pants are required during mounted lessons (breeches, leggings, jeans). ASTM/SEI approved helmets are required while mounted. (We can provide helmets)
What to bring: An extra change of clothes, snacks, water, sunscreen and bug spray!
Contact: For more information contact Alison McCallum 860-605-9600 or email ride@oakendalefarmct.com
Reserve your spot today! Enter online at www.striderpro.com, search Oakendale Farm
Camp
Instructor: Oakendale Farm LLC
$450.00
Deposit To Secure Spot

$250.00
Tests/Experience
Camp Levels
Introductory
Elementary
Beginner Novice
Novice
Training
Administrative Information
Change Policy:

Changes are not permitted.

Refund Policy:

No refunds.

Entry Option(s) Secure Spot: Pay in full via STRIDER Pay Deposit via STRIDER and the remainder by check