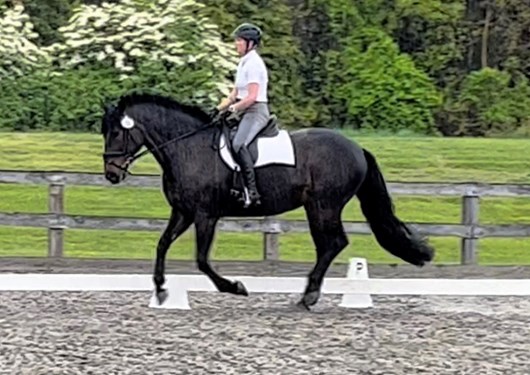 Turner Farm Park 2022 Dressage Schooling Show II and Fix-A-Test

6/12/2022
Late entries allowed until 6/9/2022
Organizer:

Nancy Schechtman

ngschecht@gmail.com

703 732-5130
Join us for another dressage schooling show. Practice any USEF/USDF dressage test, eventing test, leadline test, or ride a Fix-A-Test, in a low stress environment while supporting Turner Farm Park!
The event is generously sponsored by West Financial Services, Inc. and The Old Brogue & Katie's Coffee House
Classes will be small and allow time for judge's feedback.
A few Fix-A-Test slots are offered at the beginning and end of the day. Entrants ride their test as part of a 30 minute lesson in the show arena. Fix-A-Test are scored but not pinned.
Bring your cross-country gear and school our course after your test.
Leadline tests for beginner riders age 12 and under. The test can be found at:
https://cdn.ymaws.com/pvda.org/resource/collection/33258C9E-D46D-4493-8085-44AB511C9CDB/DRESSAGE_LEADLINE_TEST_A.pdf
Judge: Joanna Gray-Randle has earned her USDF Bronze, Silver, and Gold Medals, her USDF Silver Freestyle Bar, and is a USDF L Education Program Graduate with Distinction.
Note: Entries close at 7pm on June 7th.
Questions? Contact organizer: ngschecht@gmail.com
Organizer Notes
Please attach negative coggins and waiver with your entry.

Late Fee

$25.00

Change fee

$25.00

Refund fee

$15.00
Tests/Experience
Dressage Show Tests
USDF 2019 Intro - Test A
USDF 2019 Intro - Test B
USDF 2019 Intro - Test C
USEF 2022 Adv- Test A
USEF 2022 Adv- Test B
USEF 2022 BN- Test A
USEF 2022 BN- Test B
USEF 2022 Interm- Test A
USEF 2022 Interm- Test B
USEF 2022 Modified- Test A
USEF 2022 Modified- Test B
USEF 2022 Novice- Test A
USEF 2022 Novice- Test B
USEF 2022 Novice- Three-Day
USEF 2022 Prelim- Test A
USEF 2022 Prelim- Test B
USEF 2022 Training- Test A
USEF 2022 Training- Test B
USEF 2019 First Level - Test 1
USEF 2019 First Level - Test 2
USEF 2019 First Level - Test 3
USEF 2019 Fourth Level - Test 1
USEF 2019 Fourth Level - Test 2
USEF 2019 Fourth Level - Test 3
USEF 2019 Second Level - Test 1
USEF 2019 Second Level - Test 2
USEF 2019 Second Level - Test 3
USEF 2019 Third Level - Test 1
USEF 2019 Third Level - Test 2
USEF 2019 Third Level - Test 3
USEF 2019 Training- Test 1
USEF 2019 Training- Test 2
USEF 2019 Training- Test 3
Other Tests
Any USDF Test
Fix-A-Test Tests
Any USDF Test
Any USEF Test- Dressage
Administrative Information
Ride Time:

Ride times will be emailed by Thursday June 9th.

Trailer Direction:

Please use the entrance on the grass off of Springvale Road near the intersection with Georgetown Pike.

Change Policy:

Changes are permitted up to 2 day(s) before registration closes.

Refund Policy:

Refunds are permitted before registration closes.

Entry Option(s) Secure Spot: Pay in full via STRIDER