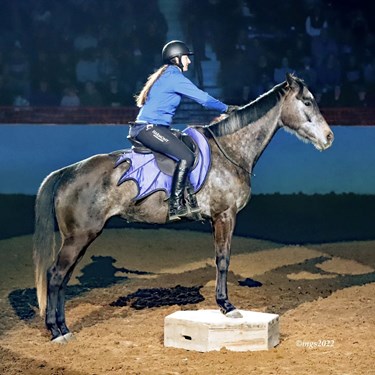 Lindsey Partridge: Become The Center of Your Horse's Universe Part 2

8/25/2022 − 8/28/2022
Organizer:

Caroline Kyros

caroline@hideawayacres.org

2073171705
Join us at Hideaway Acres for another exciting clinic with Lindsey Partridge of Harmony Horsemanship!
Lindsey Partridge is dedicated to life-long learning and helping others connect with their horses. She is an accomplished student, trainer, and competitor. She has been called 'Canada's Horse Whisperer' by the Toronto Star and 'The Queen of Thoroughbreds' by The Rider. She is a Horse Human Relationship Expert.
Founded by Lindsey Partridge in fall of 2015, Harmony Horsemanship combines years of studying with top professionals, reviewing science and evidence based training methods, as well as Lindsey's decades of personal experience. Developed with a desire to take away the notion that adding more pressure to get what you want is the best way to teach horses. Instead, Harmony Horsemanship uses fewer tools, passive leadership, and promotes learning to understand yourself, your horse and the language that connects you.
Become the Center of Your Horse's Universe is a guided course to building a complete partnership & training foundation, for all disciplines, on the ground or in the saddle. This clinic has a focus on liberty work and groundwork and how you can create a more positive relationship with your horse that you can bring with you into the saddle. Appropriate for all disciplines and designed for anyone who wants a closer relationship with their horse!
This clinic is offered as a "Part Two" of Lindsey's curriculum. If you are completely new to Lindsey's work and teaching, we will be hosting a "recap day" on Thursday, August 25th. This recap day is REQUIRED for anyone who has not attended a clinic with Lindsey before.
If you have attended one of Lindsey's clinics before, the part 2 clinic will take place Friday, August 26th through Sunday, August 28th. We highly encourage anyone who is new to Lindsey to sign up for all four days of instruction; the recap day which will cover all of part 1 of Lindsey's curriculum, followed by three days of part 2!
To sign up for the "recap" on Thursday, August 25 please select "One Day Clinic" at sign up
To sign up for the "part 2" clinic on Friday, August 26 through Sunday, August 28 please select "Three Day Clinic" at sign up
To sign up for all four days of instruction, select both!
We do have farm horses available for use in this clinic if you would like to participate but are unable to bring a horse of your own. No extra charge. Contact organizer for more information.
We have limited stabling available for horses who need to stay overnight with us for the clinic. Stalls offered on a first come first serve basis.
Organizer Notes
Limited stabling available. 12 x 12 stalls. Offered on a first come first serve basis.
Refunds available before closing date of August 20th.
Current (within 1 year) negative Coggins required for all horses coming onto the property. Signed liability waiver required for all participants.
1 Day Clinic
Instructor: Lindsey Partidge
$200.00
3 Day Clinic
Instructor: Lindsey Partridge
$525.00
Administrative Information
Ride Time:

Full clinic schedule and details will be emailed out in early August.

Trailer Direction:

Our address is 41 Gabriel Woods Road, New Gloucester. Our property skirts the New Gloucester/Raymond town line so your GPS may say either town but you will still get to us! Gabriel Woods Road is a private road. Drive all the way to the end of it until you get to the red barn. Trailer parking can be somewhat tight, so carpooling is encouraged whenever possible. There will be signage for where to park and people around to help!

Change Policy:

Changes are permitted before registration closes.

Refund Policy:

Refunds are permitted before registration closes.

Entry Option(s) Secure Spot: Pay in full via STRIDER Reserve Spot Via STRIDER, Mail Check