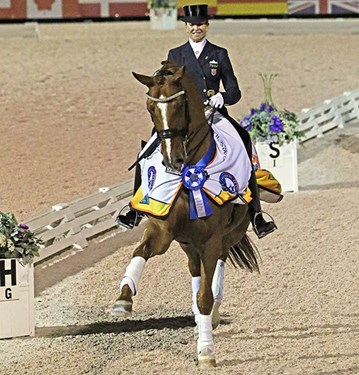 Dressage w/Lisa Wilcox

6/3/2023 − 6/4/2023
Late entries allowed until 5/28/2023
Organizer:

Michelle Thomas French Creek Equestrian

kmk0906@aol.com

4843001218
Dressage with Olympic Bronze Medalist Lisa Wilcox.
With so much demand for these clinics Lisa is willing to Come for 3 days. If the days fill. You will have the options to ride up to three days.
Lisa's teaching style is extremely detail oriented, she conveys her experience and wisdom with enthusiasm. "Do it with a smile" has always been Lisa's motto. Her ability to articulate corrections and recommendations for improvement make her an outstanding clinician for auditors as well.
"I have yet to find a perfect horse. My objective is to work with their mental capabilities and gain their trust. That is how I come to understand them, which enables me to work with their physical deficiencies, if any. This takes time and patience...... Professional trainers know how many hours they must spend working on and improving the horse's weaknesses and mental capabilities. Think long-term, and you will not only have a horse that understands you but also one that enjoys what he is doing. This is the key to harmony." Lisa Wilcox
Colorado raised - Olympian Lisa Wilcox invested a large portion of her early dressage career training in Europe with some of the sport's masters, including Herbert Rehbein and Ernst Hoyos. While residing in Germany, she passed the professional horse trainer, or Bereiter, and riding-instructor, or Reitlehrer, exams. She also served as the head trainer at Gestüt Vorwerk, one of Germany's best-known Oldenburg stud farms, for seven years, riding such famous stallions as Rohdiamant, Royal Diamond and Relevant. She and Relevant won the individual silver medal at the 2003 Open European Championships and earned a team silver for the U.S. at the 2002 World Equestrian Games and a team bronze at the 2004 Olympics.
Lisa moved back to the U.S. in 2006.
In 2017, she won the World Cup Freestyle and Grand Prix at the Adequan Global Dressage Festival and posted the second-highest Grand Prix score at the Nations Cup in Wellington on Jacqueline Shear's Galant. She also won the 2016 Palm Beach Derby National USEF Developing Horse class with Horses Unlimited's stallion Gallant Reflection HU.
Organizer Notes
In case of rider cancellations, rides will be filled from the wait list. If a replacement rider cannot be found, the clinic fee will be forfeited. Refund if allowed, will be less a $25 office fee.
Please bring a chair
Appropriate schooling attire is requested, braiding is optional.
Horses may wear boots or wraps
Videoptaping is allowed
Rider is allowed to have one(1) groom while in attendance at the clinic
1 Day Clinic
Instructor: Lisa Wilcox
$300.00
Member/Boarder Price:

$275.00
2 Day Clinic
Instructor: Lisa Wilcox
$600.00
Member/Boarder Price:

$550.00
Daily Audit
$35.00
Member/Boarder Price:

$30.00
Day Stall

$25.00

Full Stabling

$40.00
Tests/Experience
1 Day Clinic Levels
Training Level Dressage
1st Level Dressage
2nd Level Dressage
3rd Level Dressage
4th Level Dressage
FEI Dressage
2 Day Clinic Levels
Training Level Dressage
1st Level Dressage
2nd Level Dressage
3rd Level Dressage
4th Level Dressage
FEI Dressage
Administrative Information
Ride Time:

Ride times will be posted on the FCEA Facebook page and the FCE activities group. Pertinent information and schedule will be emailed to all participants and pre-registered auditors.

Change Policy:

Changes are permitted before registration closes.

Refund Policy:

No refunds.

Entry Option(s) Secure Spot: Pay in full via STRIDER