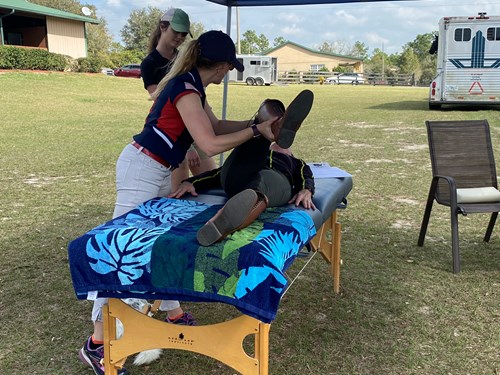 Rider Assessment Clinic

2/12/2021 − 2/13/2021
Organizer:

Lisa Hellmer

Lisa@lchequestrian.com

603-801-2140
Dr. Joanna Frantz is currently a contracted Physical Therapist for the US Para-Equestrian Dressage Team. She is part of a small group of equestrian physical therapists who have earned an advanced level certification as a USEF Human Sports Science Medicine Practitioner. This rider assessment is part of a program headed up by Andy Thomas, the physical therapist who works with Team Great Brittan and Team USA with the USEF. This program is specifically designed to help the rider correct common faulty movement patterns, prevent injury, and understand how this will affect performance on the horse.
Individual Rider Assessments: Initial assessment is performed on your horse. Your private session will be an hour one-on-one with me and your trainer if available. Evaluation and treatment will be both mounted and unmounted. You will receive an individualized assessment, treatment, and follow-up plan. You will receive reviews of your ride with video and picture analysis as well as a home exercise prescription to improve your performance.
Due to the personal nature of the sessions, auditors not permitted.
Organizer Notes
Because this is a private physical therapy session with you and Joanna, it is not open to auditors. We will be taking all necessary COVID-19 precautions and provide sanitizer and wipes.
1 Day Clinic
Instructor: Dr Joanna Frantz
$140.00
2 Day Clinic
Instructor: Dr Joanna Frantz
$140.00
Administrative Information
Ride Time:

Ride times will be emailed and posted on facebook.

Trailer Direction:

Come down the driveway and park on the grass next to the arena.

Change Policy:

Changes are not permitted.

Refund Policy:

No refunds.

Entry Option(s) Secure Spot: Pay in full via STRIDER