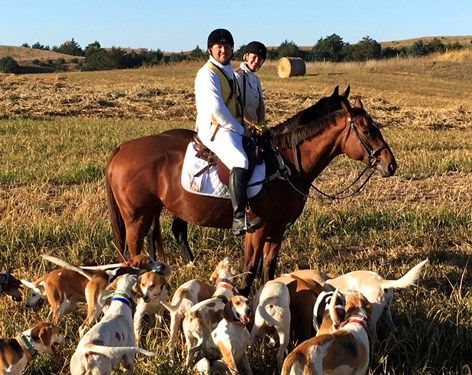 North Hills Hunt Dues, Donations & Capping

8/1/2020 − 7/31/2021
Organizer:

Mary Curran

innfolady@aol.com

515-491-2699
The North Hills Hunt is home to a group of horse and hound enthusiasts who enjoy the camaraderie of riding their horses together in beautiful country while following hounds. We are an inclusive group with a proud history and bright future! Joining the hunt is like joining a large, animal-appreciating, fun-loving family. Our fixture card contains over 50 events each year. In addition to hunting to hounds, we hold educational events, trail rides, hunter paces, social gatherings and more!
*Click REGISTER NOW below to get in on the fun! Please fill out contact details - disregard horse & stabling sections.
DON'T FORGET to sign and upload your waiver! Electronic signatures using Adobe or phone functions accepted.
*Membership fiscal year is 8/1 to 7/31. Renewing Patron members may take $50 discount if pay before September 1
*Introductory memberships are offered to anyone who has not previously been a member of an MFHA-recognized hunt.
New members need two NHH members as sponsors and NHH board approval.
*NHH is a 501(c)(3) organization thus any dues payment over $300 and all other donations to NHH are tax-deductible.
*Help feed our hounds with a tax-deductible Feed the Hounds donation! Special recognition will be given to donors.
Strike Hound - $1,000
Giving Tongue - $500
Gone Away - $250
Tally Ho - $100
Hark - $50
*Come as a guest! Non-members may hunt with a North Hills Hunt MFH's permission.
Capping fee of $75/hunt. Capping fees can be applied towards new member dues. Lifetime limit of 3 caps.
*If you want to pay via PayPal instead of Credit Card, you can do that. Please choose "Credit Card: Secure Spot in Full." Then pick the PayPal payment option on the next screen."
*If you prefer to pay by check instead of online, make payable to NHH and mail with signed waiver to
NHH Membership Chair, Mary Curran, 1008 Hull Ct, Earlham IA 50072
*Contact Mary Curran for more information about lifetime endowed memberships.

Organizer Notes
Family Patron - Married couple with/without dependents or an individual with dependents, $950 if pay by Sep 1, $1000 after
$1,000.00
Intro Family Patron - As above but for first year of membership if previously not a member of an MFHA hunt
$450.00
Individual Patron - Single unmarried person with no dependents, $700 if pay by Sep 1, $750 after
$750.00
Intro Individual Patron - As above but for first year of membership if previously not a member of an MFHA hunt
$350.00
Student - Full-time student under 26 years old. Does not include parents, spouse or dependents.
$400.00
Intro Student - As above but for first year of membership if previously not a member of an MFHA hunt
$250.00
Basic Social - May cap up to 5 hunts/year at $60/hunt
$300.00
Affiliate - Full riding member of another MFHA-recognized hunt
$300.00
4 Monthly Payments - Family Patron
$255.00
4 Monthly Payments - Individual Patron
$192.00
4 Monthly Payments - Basic Social
$80.00
Capping - NonMember
$75.00
Feed the Hounds - Strike Hound

$1,000.00

Feed the Hounds - Giving Tongue

$500.00

Feed the Hounds - Gone Away

$250.00

Feed the Hounds - Tally Ho

$100.00

Feed the Hounds - Hark

$50.00
Administrative Information
Trailer Direction: Please check http://northhillshunt.com/fixture-hunt-calendar/
or contact Mary Curran 515-491-2699 or Bre Kruger 402-657-5566 for dates, locations and times of activities.
Change Policy:

Changes are not permitted.

Refund Policy:

No refunds.

Entry Option(s) Secure Spot: Pay in full via STRIDER