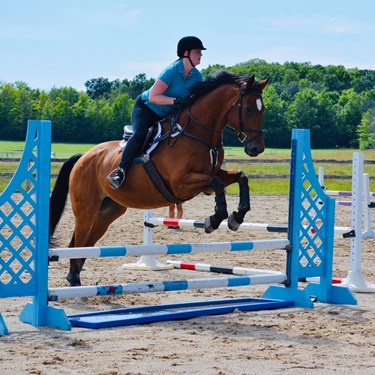 Racine County Pony Club Dressage and Combined Training Schooling Show

9/9/2023
Organizer:

Amy Schleicher

RCPCshows@gmail.com

414-840-3930
Racine County Pony Club is excited to host a Dressage and Combined Training schooling show to be held together on September 9, 2023.
DRESSAGE: Intro, Eventing, and Leadline Classes will all be in the small arena. All other classes will be in the large arena. PLEASE NOTE: The USDF tests have been updated this year. We will be using the 2023 test sheets for this show.
If you would like to ride a test that is not shown, please select TOC (Test of Choice) and write in which test you are doing in the comments.
If entries allow (more then 6 riders per class), classes will be split between Junior (under 18), Adult Amateur, and Open. Please specify your status by check the correct box in the class entries at the bottom.
COMBINED TRAINING: Levels from Ground Pole Division to Training Level. Cross Country Schooling is available after the show (with a coach) for an extra fee.
*NOTE* - OFFICE FEE IS REQUIRED FOR EACH ENTRY. If you do not pay the office fee, you will need to submit an additional entry to pay the required office fee.
We prefer that all entries be submitted and paid through Strider. However, you may print and submit a paper entry and check to the show organizer for an additional fee of $15. Please email us to request a paper form.
Judge - Lacey Hranicka - L Graduate.
Please make sure to check all applicable fee boxes: office fee is required, other optional fees are for stabling, lesson horses, paper entry fees. Check in advance for lesson horse and overnight stabling availability.
*** NOTE *** RCPC Release, USPC General Activity Release (for non-members), 2023 Coggins, and full payment are required for entry to be complete.
Organizer Notes
Changes are permitted before registration closes. Refunds are permitted before registration closes. No refunds after closing date.
CT - Ground Pole Division USDF Intro B
$65.00
CT - Pre-Starter Novice Max Height 18" USEA 2022 Starter Test
$65.00
CT - Starter Novice Max Height 2'0" USEA 2022 USEA Starter Test
$65.00
CT - Pre-Beginner Novice Max Height 2'3" USEF 2022 Beginner Novice Test B
$65.00
CT - Beginner Novice Max Height 2'7" USEF 2022 Beg Novice Test B
$65.00
CT - Novice Max Height 2'11" USEF 2022 Novice Test B
$65.00
CT - Training Max Height 3'3" USEF 2022 Training Test B
$65.00
USDF 2023 Intro Test A
$25.00
USDF 2023 Intro Test B
$25.00
USDF 2023 Intro Test C
$25.00
USDF 2023 Training Level Test 1
$25.00
USDF 2023 Training Level Test 2
$25.00
USDF 2023 Training Level Test 3
$25.00
USDF 2023 First Level Test 1
$25.00
USDF 2023 First Level Test 2
$25.00
USDF 2023 First Level Test 3
$25.00
USDF 2023 Second Level Test 1
$25.00
USDF 2023 Second Level Test 2
$25.00
USDF 2023 Second Level Test 3
$25.00
Test of Choice Freestyle (Musical)
$30.00
WDAA Test of Choice
$25.00
Musical/Costume Funstyle
$30.00
NWHA Test of Choice
$25.00
XC Schooling (coach is required - will take place after the show is completed)
$35.00
Leadline Class with lesson horse (NO OFFICE FEE)
$30.00
USEA Test of Choice
$25.00
Leadline Class with own horse (NO OFFICE FEE)
$20.00
Adult Amateur Status
FREE
Open Status (not JR or AA)
FREE
Jr. Status (under 18)
FREE
Office Fee (REQUIRED)

$30.00

Day Stall (7am-5pm)

$40.00

Overnight Stall (3pm Fri - 5pm Sat - Prior approval needed)

$70.00

Day Stall (RCPC Indoor Boarders)

FREE

Lesson Horse (includes stall - Prior approval needed)

$60.00

Paper Entry Fee

$15.00
Administrative Information
Ride Time:

Ride times will be emailed approximately one week prior to show date.

Trailer Direction:

From I-94 take Hwy G exit. Go east on Hwy G. Turn right (south) on Hwy H. Turn left (east) on Five Mile Rd. The third stop sign is Hwy 31. Turn right (south) on Hwy 31. RCPC Equestrian Center is on right side of road 5518 State Hwy 31. If you reach Four Mile Rd, you have gone too far.

Change Policy:

Changes are permitted before registration closes.

Refund Policy:

Refunds are permitted before registration closes.

Entry Option(s) Secure Spot: Pay in full via STRIDER