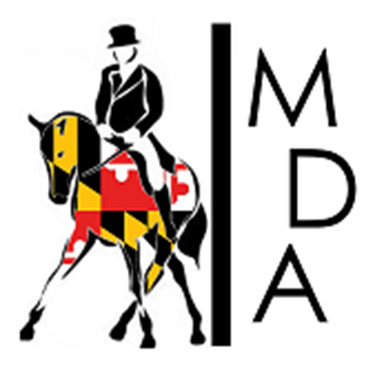 MDA Membership - 2022

10/1/2021 − 11/30/2022
Organizer:

JoAnne Offidani

jrjones006@gmail.com

717-578-2903
Join now or Renew Your Membership. Fill out the membership form, print it out and upload here.
In the comments section, place MDA Membership dues.
Maryland Dressage Association (MDA) is a nonprofit organization developed to promote, encourage, educate and participate in the art of classical and western dressage, working cooperatively with local, state and national organizations in matters of common concern.
Our objectives include, but are not limited to, the following:
• educate and create opportunities for its Members and other interested parties (including other organizations), to develop skill and excellence in dressage.
• encourage and reward excellence in performance, horsemanship and sportsmanship.
• encourage, promote and conduct exhibitions, shows, clinics, seminars and other educational events designed to develop the potential of rider and horse.
Membership in MDA is open to all persons or organizations interested in the sport of dressage.
1. The MDA Membership year begins December 1 and ends November 30th.
2. Dues will be established annually.
3. New Memberships received after October 1st will go towards Membership for the following year (December 1 – November 30)
4. Existing Member dues for renewal must be paid by December 1 or membership will be automatically terminated.
The Membership categories are as follows:
A. Senior - Individual who has reached their twenty-first (21) birthday as of December 1 of the previous calendar year.
B. Junior/Young Rider - Individual who has not yet reached their twenty first (21) birthday as of December 1 of the previous calendar year.
C. Life - Individual of any age who applies for and is granted membership upon receipt of payment based on current fees applicable (not obligated to pay annual dues);
D. Honorary Life - general membership of the Association shall from time to time elect a member to this class based on outstanding service to the MDA over an extended period of time (not obligated to pay dues).
5. Each Member is entitled to one vote at all General Membership meetings.
6. Membership rights and privileges shall include:
A. eligibility to vote in the election of Officers/Board Members and on any other matter presented to the Membership for approval.
B. eligibility for election to the Associations Executive Board (after one year of Active Membership).
C. eligibility for awards and trophies presented by the Association.
D. eligibility to participate in all educational activities, shows, clinics, programs, entertainments, discussions and meetings held or presented by the Association; and
E. USDF Group Membership.

Additional Family Member
$25.00
Administrative Information
Change Policy:

Changes are not permitted.

Refund Policy:

No refunds.

Entry Option(s) Secure Spot: Pay in full via STRIDER