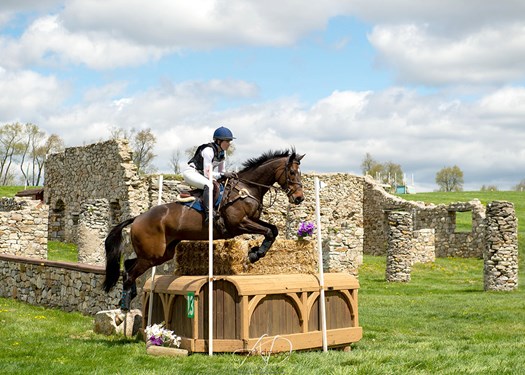 Intro to Eventing Clinic

7/24/2021
Late entries allowed until 7/21/2021
Organizer:

Jax Maxian

jmaxian13@gmail.com

6075921954
Have you ever been interested in eventing but don't know where to start? This clinic is perfect for you to get all of your questions answered and also build a foundation to make your first event a success. Also a great opportunity for more experienced eventers who want to get ready for their next event. Focus will be on building the fundamentals needed for eventing through flat work and jumping exercises. Great atmosphere for young, green horses and riders of all ages!
-1.5 hour group lesson with 3-4 people per group
-Will include a warmup focusing on dressage, show jumping exercises, and end off with cross country exercises in our jump field
-$75/ person. Payment required in order to hold your spot.
-Includes lunch with a Q&A session and a full day of auditing for the participant plus one guest.
-Refunds will be given if notified before the closing date (Sunday, 7/18/21)
Auditors:
-Welcome for $35 which includes lunch and a Q&A session with Jax.
-Outdoor sound system so instruction can be easily heard.
-Bring a lawn chair and enjoy hilltop seating that provides a perfect view of the whole outdoor ring
Elementary- Cross rails
Intro- 2'-2'3"
Beginner Novice- 2'7"
Novice- 2'11"
About the instructor: Jax Maxian has worked and ridden for some of the best eventers in the country, including Hannah Sue Burnett, Mara DePuy, and Daniel Clasing. She applies all she has learned to create an individualized training program for both horse and rider. She has also competed and trained numerous horses to the upper levels of eventing and specializes in green and young horses.
Organizer Notes
1 Day Clinic
Instructor: Jax Maxian
$75.00
Tests/Experience
1 Day Clinic Levels
Introductory
Elementary
Beginner Novice
Novice
Administrative Information
Ride Time:

Ride times will be posted on our JEM Equestrian and Ithaca Equestrian Center Facebook page July 21st after 5pm

Trailer Direction:

There will be 3 driveways off of 96. Ours is the middle one with the jump standards on the right side.

Change Policy:

Changes are permitted before registration closes.

Refund Policy:

Refunds are permitted before registration closes.

Entry Option(s) Secure Spot: Pay in full via STRIDER