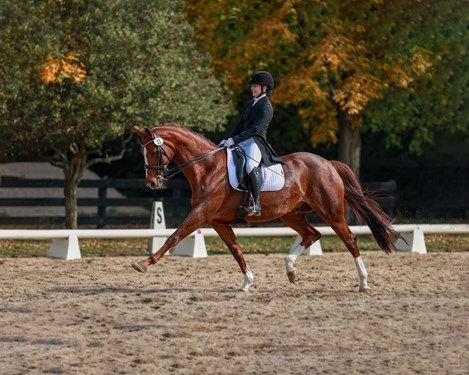 Rider Biomechanics and Dressage- Clinic in Indoor Arena at Wyndham Oaks with Rebecca Vick- Dec. 10th & 11th

12/10/2022 − 12/11/2022
Organizer:

Veronica Bill

veronica@wyndham-oaks.com

301-775-3630
Come ride with Rebecca Vick to focus on using your seat to improve your ride or come take a private session to continue working on areas after our Fix-a-test on 12/10. Rebecca specializes in giving clear communication to help the rider continue progress on their own when at home and unlock areas where they can improve. This is an open dressage clinic to work on whatever area you'd like to improve, but Rebecca will be emphasizing rider biomechanics.
Becca Vick has an extensive resume. Becca has her Bronze, Silver, and Gold medals and worked with Jim Koford for a decade before going out on her own. She trains with many top trainers including Conrad Schumacher, Anne Gribbons, Catherine Haddad, Linda Zang, Michael Poulin, and others. She also was a finalist in Robert Dover's Search for America's Next Equestrian Star, where she had the opportunity to train with both Robert Dover and Katherine Bateson-Chandler, as well as Kathy Connelly, Lisa Wilcox, Tina Konyot, Ashley Holzer, Bent Jenson and Michelle Gibson. Becca strongly believes that dressage can make any horse better and more athletic, and her solid training foundation has a major focus on thoroughness and using correct rider position to create a harmonious, happy horse-rider team.
Organizer Notes
2022 Clinic Policy
For 2022, we are implementing a new payment procedure for all individuals riding in our clinics with Jim Koford. In order to secure a spot in a clinic, participants must pre-pay for the clinic. Once we have received payment for the clinic your spot will be secured. If a rider has to cancel their ride and we can fill the spot in the clinic they will receive a refund minus $20 fee.
Alternatively, the rider can fill the spot themselves with someone of their choosing for no fee and be paid directly from the alternate rider. If the rider is able to fill the spot, please notify Wyndham Oaks so we can update the clinic schedule.
Auditors do not need to pre-register and they can pay on the day of the clinic with cash or a check. Participants can bring one guest with them to audit for free.
Participants have two options for paying for the clinic. They can mail a check made out to Wyndham Oaks or for pay via paypal (friends and family).
Mail checks to: Paypal:wyndhamoaks@gmail.com
Wyndham Oaks
℅ Veronica Bill
19301 Bucklodge Rd
Boyds, MD 20841
Change fee

$10.00

Refund fee

$25.00
Administrative Information
Ride Time:

We will post all ride times on our event website (below) and you can also use this to select a preferred ride time. We keep ride times updated as we receive registrations. An email with more event details and the final schedule will be sent out the week of the event.

Please reach out with any questions!

Trailer Direction:

We have plenty of parking available in the front of the barn or further down our driveway past the indoor and outdoor arena. If you go past the outdoor, there is another barn you can park in front of, or use the parking lot to turn around and park closer to the main barn.

Change Policy:

Changes are permitted up to 20 day(s) before registration closes.

Refund Policy:

Refunds are permitted up to 20 day(s) before activity begins.

Entry Option(s) Secure Spot: Pay in full via STRIDER Reserve Spot Via STRIDER, Mail Check