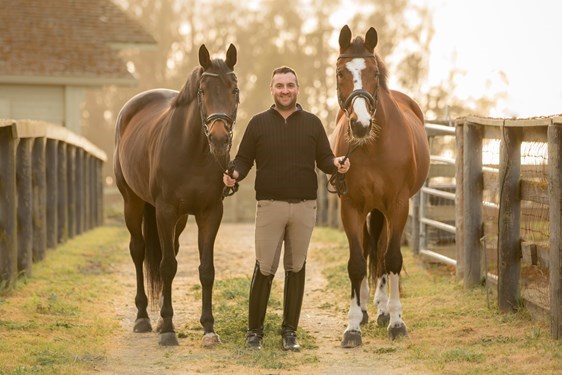 Brian Hafner Dressage Clinic

6/30/2023 − 7/1/2023
Organizer:

Liz Lund

lle@lizlund.com

9522109448
Brian Hafner is a Grand Prix Dressage Competitor and trainer. He is one of a few young trainers to compete at this level and he takes that level of excellence into his training program. As a lifelong equestrian originally from Minnesota, he relocated to California in 2006 and landed in Northern California where he started Brian Hafner Dressage. Brian is a well known trainer with a relaxed yet determined approach to the sport. Throughout his career Brian has shown to be successful at all levels of dressage. His biggest accomplishment is training his own horse Lombardo up to be a successful International CDI Grand Prix horse from a 4 year old. Brian's resume' includes:
• US Team member for 2015 Nation's Cup team Falsterbo, Sweden CDIO5*
• US Team member for 2014 Nation's Cup teams for Rotterdam CDI05* and Hickstead CDI3*
• USDF Bronze, Silver and Gold medalist
• 2015 CDS Horse of the Year Grand Prix
• 2014 Carol Lavell $25,000 dressage grant recipient through The Dressage Foundation (dressagefoundation.org)
• 2013 Top Six USEF National Championships at Grand Prix (Lombardo)
• 2013 Top Ten USEF National Championships at I-1 (Chablis)
• 2012 Brentina Cup Champion
• 2009 NAYRC Triple medalist
• Numerous CDI wins and top placing's
• Numerous Regional and Year end championships
Organizer Notes
Contact me if you need overnight stabling. Say DOOR loudly before opening and entering indoor arena. VENMO preferred payment.
1 Day Clinic
Instructor: Brian Hafner
$200.00
Tests/Experience
1 Day Clinic Levels
Training Level Dressage
1st Level Dressage
2nd Level Dressage
3rd Level Dressage
4th Level Dressage
FEI Dressage
Administrative Information
Ride Time:

Email & Facebook

Trailer Direction:

Parking in driveway off to the side

Change Policy:

Changes are not permitted.

Refund Policy:

No refunds.

Entry Option(s) Reserve Spot Via STRIDER, Mail Check