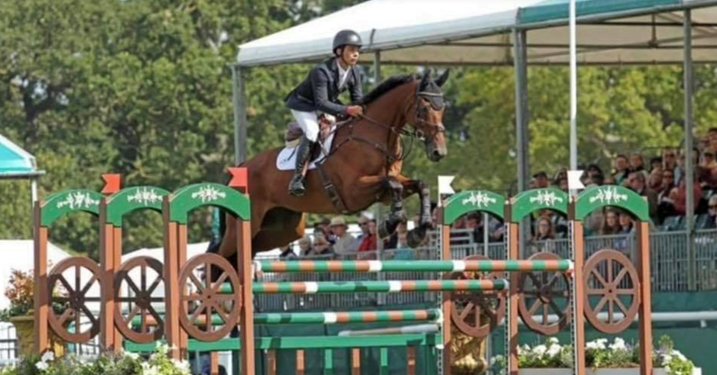 Jumping Clinic with Dom Schramm

1/30/2022 − 1/31/2022
Late entries allowed until 1/28/2022
Organizer:

Kristen Knoble

kristen.knoble@svpanthers.org

4848947687
Excited to announce that Dom Schramm will be doing a 2 day clinic at beautiful Rosewood Equestrian Center January 30th and 31st. This is a perfect way to stay focused and on your game through the long winter months. It would also make the perfect Christmas gift for the equestrian in your life.
Please contact Kristen Knoble 484-894-7687 to secure your spot. Dom's clinics tend fill very quickly, so don't wait to sign up. Please Paypal me at 484-894-7687 using 'personal' sending to friend/family option. Payment is due by January 1st. If you send payment prior to that date, it will not be cashed until then.
Whether you are dealing with a young horse, a difficult horse, you are a timid rider, you're looking for some motivation, you are looking for a tune-up before a show, or to sharpen your skills, Dom is extremely effective in helping you over come your obstacles or helping you meet your goals. Dom is well known for his enthusiasm, sense of humor, and designing exercises to challenge his students in a way the builds confidence with each horse/rider partnership and provides them with the correct skills to help them progress and reach their goals .
Costs:
$170 per day. Includes $20 ring fee for Rosewood Equestrian Center
$340 for both days. Includes ring fees.
Payment Method: Paypal Kristen Knoble 484-894-7687. Please pay in full by January 14th
Ride times: If you have any time requests please let me know and I will do my best to accommodate. Ride times will be texted by January 21st. We are hoping to see you there!
Organizer Notes
Clinic is non refundable, unless you are able to find someone to fill your spot or there is a wait list.
1 Day Clinic
Instructor: Dom Schramm
$170.00
2 Day Clinic
Instructor: Dom Schramm
$340.00
Tests/Experience
1 Day Clinic Levels
Introductory
Elementary
Beginner Novice
Novice
Training
Modified
Preliminary
Intermediate
2 Day Clinic Levels
Introductory
Beginner Novice
Novice
Training
Modified
Preliminary
Intermediate
Administrative Information
Ride Time:

I will text ride times by January 21st.

Trailer Direction:

We have plenty of parking no matter the size of your rig.

Change Policy:

Changes are not permitted.

Refund Policy:

No refunds.

Entry Option(s) Reserve Spot Via STRIDER, Mail Check