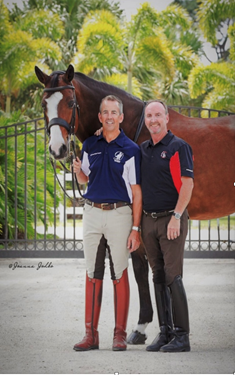 Bill McMullin Clinic

12/18/2020 − 12/19/2020
Organizer:

Lisa Hellmer

Lisa@lchequestrian.com

LCH Equestrian is pleased to welcome Bill McMullin for a wonderful dressage clinic! Bill is an approachable and kind trainer who has worked with riders of all levels.
Bill is a USDF Bronze, Silver and Gold Medalist. He is also a USEF "R" Dressage judge as well as USDF certified instructor and faculty member.
As half of the team comprising Warren-McMullin Dressage, Bill trains and teaches along
with Bill Warren in Mansfield, MA from May through November, and in Wellington, FL from
December through April. In addition to maintaining a busy teaching and training schedule
at home, Bill travels frequently to judge, teach clinics and lead USDF Instructor Certification
Workshops. He is also currently in the USEF 'S' Dressage Judge's training program.
'The Bills' host Conrad Schumacher for clinics in both Massachusetts and Florida. They have
been working closely with Mr. Schumacher for many years, and they share a similar philosophy in
the training of horses, which is based on Classical methods and are always concerned for the
welfare of the horse.
Organizer Notes
This clinic is open to all levels of riders and horses.
Auditors are welcome but we ask everyone wear a mask and maintain proper social distancing (keep 6' apart). We will be outdoors with plenty of airflow and seating to accommodate.
1 Day Clinic
Instructor: Bill McMullin
$140.00
2 Day Clinic
Instructor: Bill McMullin
$280.00
Tests/Experience
1 Day Clinic Levels
Training Level Dressage
1st Level Dressage
2nd Level Dressage
3rd Level Dressage
4th Level Dressage
FEI Dressage
2 Day Clinic Levels
Training Level Dressage
1st Level Dressage
2nd Level Dressage
3rd Level Dressage
4th Level Dressage
FEI Dressage
Administrative Information
Ride Time:

Ride times will be emails the week before the clinic.

Change Policy:

Changes are not permitted.

Refund Policy:

No refunds.

Entry Option(s) Secure Spot: Pay in full via STRIDER