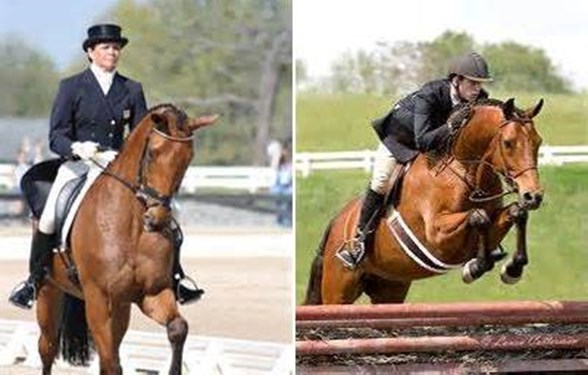 FCEA Dressage Schooling Show/Combined Test/CR Jumpers

9/20/2020
Late entries allowed until 9/15/2020
Organizer:

FCEA Organizer

kmk0906@aol.com

6104690111
FCEA Snapshot Show Series
A schooling show with a little something for everyone. Great low key atmosphere. Reasonable pricing and great prizes!
Best Dressage Score and Low CT Score for each show!
One of a kind coolers for series champions - YOUR horse's snapshot on the cooler!
Dress is n..eat and workmanlike. Boots must have heels and riders MUST wear an approved helmet.
Dressage Intro through FEI
Western Tests, Freestyles and Rider Tests - welcome
Combined Test through Prelim
Jumpers Xrails through 3'6 (Table II section 2(b)
OTTB Awards in Intro, Training and First levels - cash prize (3 entry minimum across levels)
Dressage for Cash in Training 2, First 2 and Second 2 (3 entry minimum)
Jumpers for Cash - All Jump Off Classes (3 entry minimum)
prizelist can be found at www.frenchcreekequestrian.org
FCEA members receive a $5 discount
Organizer Notes
***Please download and complete entry form** MUST Attach sign liability wiaver and coggins with entry.
Full refund before closing date. Refunds after closing date less $5.00 handling charge with VMD or MD certificate only.
Limited food available.
Negative coggins required
Classes maybe combined or split depending on entries, at show management's discretion.
Novice CT 2'11- Novice Test B
$45.00
Training Level Test 3
$25.00
Training CT 3'3 - Training Test B
$45.00
First Level Test 2
$25.00
Western Dressage TOC - State Test in Notes
$25.00
Test Of Choice - State Test in Notes
$25.00
Second Level Test 3
$25.00
Beg. Novice CT 2'6 - Beg Novice Test B
$45.00
Second Level Test 2
$25.00
Clear Round Jumpers 3'3
$20.00
Prelim CT 3'7 - Prelim Test B
$45.00
Clear Round Jumpers 2'
$20.00
Training Level Test 1
$25.00
First Level Test 1
$25.00
Elementary CT 2' - Intro C Test
$45.00
Clear Round Jumpers 2'11
$20.00
Starter CT 2-2'3 - Beg Novice A Test
$45.00
Fourth Level TOC - State Test in Notes
$25.00
Training Level Test 2
$25.00
USEA Eventing TOC - State Test in Notes
$25.00
Add'l schooling round
$10.00
FEI TOC - State Test in Notes
$25.00
Clear Round Jumpers 2'6
$20.00
Second Level Test 1
$25.00
First Level Test 3
$25.00
Clear Round Jumpers 2-2'3
$20.00
Clear Round Jumpers 3'7
$20.00
Third Level TOC - State Test in Notes
$25.00
Schooling/Grounds Fee - non competing

$20.00
Administrative Information
Ride Time: Ride times will be emailed the Thursday night before the show.
Rides times will be posted on frenchcreekequestrian.org and facebook.com/frenchcreekequestrian
Trailer Direction: Templin Road is just off Rte 401. from the west or the PA turnpike travelling east - take the Morgantown Exit to Rt. 23 Ridge Road turn left(east) Just after the WalMart turn right onto Rt. 401. Turn Left onto Templin Road.
Other directions - route 100 (Pottstown Pike) North to rt 401 turn right and turn right onto Templin Road. From this direction you can see blue farm from 401 just before the turn onto Templin.
Parking is in the field on the WEST side of Templin Road just past the 2nd entrance to the farm.
Change Policy:

Changes are permitted up to 5 day(s) before registration closes.

Refund Policy:

Refunds are permitted before registration closes.

Entry Option(s) Secure Spot: Pay in full via STRIDER