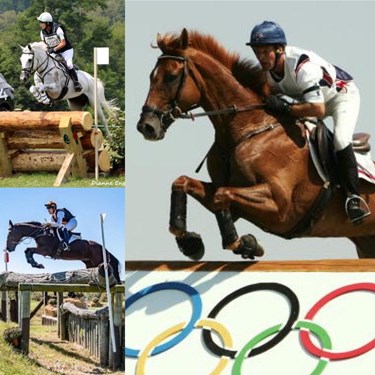 Jump4Joy Simulated XC Clinics

5/22/2022 − 9/11/2022
Organizer:

Daisy Trayford

exmooreventing@yahoo.com

5859918785
Exmoor Eventing are excited to host three simulated XC clinics at our farm in 2022
May 22nd - Coach: Advanced level and FEI 4* Eventer, Daisy Trayford
July 24th - Coach: 5* Competitor & Grand Prix Showjumper, Sara Kozumplik
September 11th - Coach: Team USA Eventing Olympic & World Games Medalist, John WIlliams
These clinics are geared towards XC preparation in our huge outdoor arena - focus will be on rider accuracy, balance and your seat / position for cross country riding. For the horse, these sessions will provide a useful introduction to XC for the greener mounts and a good tune up for the more experienced combinations
If the footing / weather permits, we will also incorporate some elements of the full XC facilities available including ditches, banks and water
Groups of 3-6
90 minute sessions
Please send a note with your entry what level you ride at / what height you are comfortable jumping so we may group you accordingly. All levels welcome
Auditors welcome - no charge
Coffee and donuts available AM - Pizza for lunch
Vests are required should we venture onto the 'proper' XC course and are a recommended safety precaution anyways!
Organizer Notes
Please specify your level / experience as a combination so we may group you accordingly - also please add who you would like to ride with if you are travelling together etc
Refunds will be issued if your place can be filled from the wait list (only 25 spots available per clinic) - we will also try to partially refund you if you sign up for all three but can't attend them all for whatever reason
Please bring a signed waiver with you - more will be available up at the ring so don't worry if you forget!
May 22nd Clinic - Daisy Trayford
$95.00
July 24th Clinic - Sara Kozumplik
$95.00
September 11th Clinic - John Williams
$95.00
Sign me up for all three!
$250.00
Administrative Information
Ride Time:

The full clinic schedule will be emailed and also posted on the Exmoor face book page

Trailer Direction: GPS is accurate (Letchworth Farm)
Please use horse trailer entrance off Oakland Road - no horse trailers through main farm entrance please. Parking is on the large grassy area below our indoor riding arena. The outdoor ring is a short hack from the parking area to the back of our farm
Change Policy:

Changes are permitted up to 5 day(s) before registration closes.

Refund Policy:

No refunds.

Entry Option(s) Secure Spot: Pay in full via STRIDER