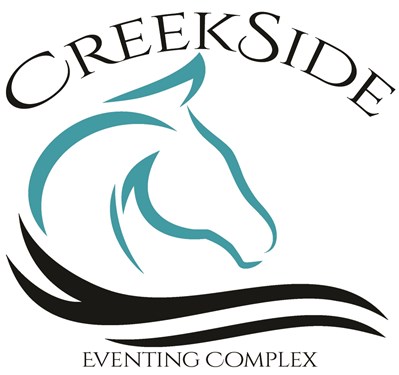 Creekside 3 Way Winter Series

12/3/2022 − 12/4/2022
Late entries allowed until 12/1/2022
Organizer:

Creekside Eventing Complex

events@cseventingcomplex.com

For more information about Creekside Eventing Complex please visit https://www.CSEventingComplex.com or http://www.KateColemanEquestrian.com
Our 3 Way Series is a Combined Test, Dressage Show and Jumper Show all wrapped into one. Enter the CT, the DS, the JS or all 3 or any combination! Dressage is Saturday, Jumping is Sunday. Our schooling shows offer a casual environment with a great place for beginners and experienced horses and riders alike!
AWARDS:
Individual shows will pin ribbons for places 1-6 in each division or class (jumper show ribbons in both rounds).
SERIES AWARDS:
To qualify for series awards the same rider and horse combination must enter at least 4 of the 6 shows. Riders are allowed to change divisions and/or ride different tests. Scores follow the rider not the division.
The top 3 riders from each show (Combined Test, Dressage Show & Jumper show) will be awarded a neck ribbon, cash/gift card & Buckeye treats at the conclusion of the last show. The quantity of prizes may increase based on entries.
Series Winners shall be determined by:
• Combined Test: The lowest combined score of the lowest 4 scores (out of 6 possible scores). Ties are broken by lowest dressage score of the series.
• Dressage Show: The highest combined score of the highest 4 non-eventing tests. If riding multiple tests in one day the best test of the day is the qualifying test. Ties are broken by highest overall qualifying test.
• Jumper Show: Lowest score wins. Each second under Optimal Time is given .1 points, each second over is awarded .4 points, rails and runouts are 4 points. Jumper show consists of 2 rounds, lowest point round is the qualifying score for that show. Ties are broken by qualifying round closest to optimal time..

Organizer Notes
** EACH RIDER IS ALLOWED TWO GUESTS WITH ENTRY. **
Anyone not adhering to this will be asked to leave. No refunds will be given.
ENTRIES: Closing date for entries is the Saturday prior to the show date. One entry per rider per horse. Completed entry, current negative coggins, and full payment of fees must all be submitted/received at the same time or a $15.00 office fee will be added to each entry. Entries must be received by the closing date. Incomplete entries or entries without payment will not be considered entered. No refunds will be given after the closing date; however, you may substitute another horse or rider. No stabling available. Riders hauling in need to be prepared to work off of their trailer. Entries may not be accepted if the show is full in which case your entry fee will be refunded.
LATE ENTRIES: Late entries will be accepted if space is available. A $15.00 late fee will be added if completed entry and/or entry fee are not received by the closing date.
CT Intro - 2019 USDF Intro B
$50.00
CT Starter - 2022 USEA Starter
$50.00
CT Beginner Novice - 2022 USEF Beginner Novice A
$50.00
CT Novice - 2022 USEF Novice A
$50.00
CT Training - 2022 USEF Training A
$50.00
CT - Additional Jump Round
$15.00
DS - 2022 USEF Beginner Novice A
$35.00
DS - 2022 USEF Beginner Novice B
$35.00
DS - 2022 USEF Novice A
$35.00
DS - 2022 USEF Novice B
$35.00
DS - 2022 USEF Training A
$35.00
DS - 2022 USEF Training B
$35.00
DS - 2019 USDF Intro Test A
$35.00
DS - 2019 USDF Intro Test B
$35.00
DS - 2019 USDF Intro Test C
$35.00
DS - 2019 USEF Training Level Test 1
$35.00
DS - 2019 USEF Training Level Test 2
$35.00
DS - 2019 USEF Training Level Test 3
$35.00
DS - 2019 USEF First Level Test 1
$35.00
DS - 2019 USEF First Level Test 2
$35.00
DS - 2019 USEF First Level Test 3
$35.00
DS - 2019 USEF Second Level Test 1
$35.00
DS - 2019 USEF Second Level Test 2
$35.00
DS - 2019 USEF Second Level Test 3
$35.00
DS - 2019 USEF Third Level Test 1
$35.00
DS - 2019 USEF Third Level Test 2
$35.00
DS - 2019 USEF Third Level Test 3
$35.00
JS - Beginner Novice
$45.00
Online Convenience Fee

$5.00
Administrative Information
Ride Time:

RIDE TIMES: Times will be emailed no later than 36 hours prior to start.

Trailer Direction:

All cars are to park in the front of the barn (which is where you pull in) or further down the driveway by the unhooked trailers. Trailers hauling in are to take the first right down the drive next to the barn and head to the back of the barn.

Change Policy:

Changes are not permitted.

Refund Policy:

Refunds are permitted before registration closes.

Entry Option(s) Secure Spot: Pay in full via STRIDER