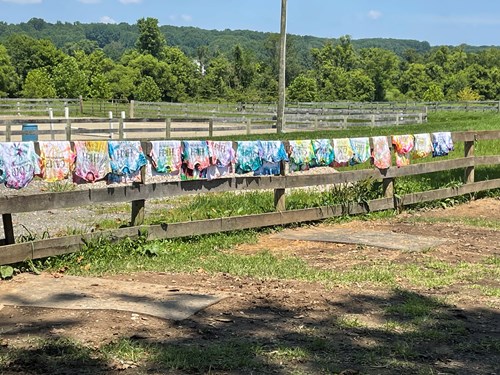 Horse & Hive Summer Camp - Advanced Campers, Week 3 (July 17 - July 21)

7/17/2023 − 7/21/2023
Organizer:

April Roberts

hhfarm2012@gmail.com

443-606-4639
Week 3 of camp is geared towards advanced riders only. We have a lot of exciting plans being made for new activities and experiences geared towards advanced riders. Please read the below information carefully before registering for Week 3.
Requirements: Campers signing up for advanced camp need to be proficient and confident at the Walk, Trot and Canter. Experience jumping is not necessary, but is encouraged since some activities may include opportunities for jumping. Campers who are current H&H students should consult with their trainer to confirm that they qualify before signing up. Campers who ride outside of H&H should discuss theses requirements with their trainer and email us at hhfarm2012@gmail.com to confirm eligibility before registering. All campers registered for this week will undergo a skills assessment on the first day of camp. If it is determined by the head counselor that a camper does not meet these requirements, they will be asked to switch to another camp week. Please keep in mind that camp fees are non-refundable, so please make sure that it is the right fit for you/or your child before registering.
Off-farm Trips: There is the potential for the advanced campers to travel off-farm for other riding and educational opportunities. These activities could include but are not limited to, cross-country schooling, visiting a local horse rescue, or traveling to a local foaling center. We will have more information related to specific activites as we head into the spring. However, we want parents/registrants to be aware that these off-farm trips might have an additional cost associated with them that is not covered by the $600 camp fee. For example, traveling to the local cross-country schooling facility would cost each camper a $35 facility fee. Any campers or parents uncomfortable with their child traveling off-farm, or paying additional fees for off-farm activities should avoid signing up for the advanced camp as we are unable to leave some campers behind while others leave the farm.
Required forms: Health History Form, Liabiality Waiver, included in this Strider registration. In addition all campers must have a completed camper entry form: https://forms.gle/i9C2bPeNWZ3xuNmk9
Desposits or full payments can be made via Strider. Balances can be paid by check or Venmo.
Organizer Notes
Camp fees are non-refundable.
Camp
Instructor: TBD
$600.00
Deposit to Hold Spot

$300.00
Administrative Information
Change Policy:

Changes are not permitted.

Refund Policy:

No refunds.

Entry Option(s) Secure Spot: Pay in full via STRIDER Pay Deposit via STRIDER and the remainder by check Reserve Spot Via STRIDER, Mail Check