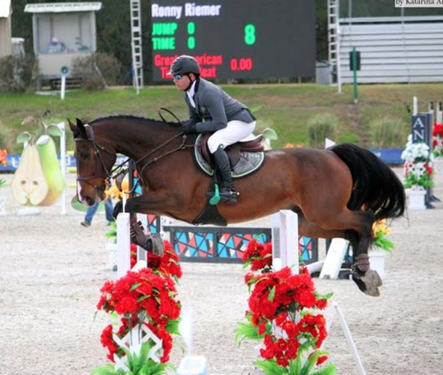 2 Day jumping Clinic with Ronny Riemer aka The German Riding Instructor

11/2/2019 − 11/3/2019
Organizer:

Trade Winds Farm

clinics@tradewindsfarm.com

Internet personality and accomplished rider Ronny Riemer aka "The German Riding Instructor" is coming to Trade Winds Farm this summer for a 2 day clinic!
Spaces are available for all levels, beginner through advanced riders including hunters, jumpers, green horses and equitation. The clinic will be held over the course of two days and will cover warm up techniques, gymnastics and course work. Groups will be divided in max 3 - 5 riders a group.
Lunch will be served both days, featuring a Q&A with Ronny and seminar on horse nutrition from Pro Elite Premium Horse Feeds. Lunch will be provided by Pro Elite and Lukens Horse Transportation.
The cost for the clinic is $400, discounted to $350 for professional riders/trainers.
There is a limited number of stabling available. Stalls will be reserved first come, first served at $50 per day.
Auditors are welcome for $30 either day, or $50 for both. *STABLING HAS BEEN SOLD OUT!*
Registering to ride after Sunday, October 20th is an additional $50 late entry fee.
The first 10 entries received will be entered in a drawing to have their clinic fee paid for by Perfect Products! Get your entries in ASAP in order to be considered for this opportunity!
There will be an award for best turned out, selected by Ronny.
ABOUT RONNY:
Ronny is an accomplished Grand Prix and Championship rider with over 20 years experience in the sport horse industry.
Riding for names like Franke Sloothaak and Paul Schockemöhle, Ronny made a name for himself as an international rider and trainer, not just in Germany but also in other parts of Europe and North America.
Knowing the difference between the European and American way of riding, Ronny combines the best of both styles to individually suit both horse and rider. As founder and owner of RCR Equestrian Inc. Ronny specializes in importing European Warmbloods for the US market. The training and showing occurs out of RCR's European Style Equestrian facility Griffin's Landing based in the Horse Capital of the World, Ocala Florida.
Ronny believes in traditional horsemanship. He stresses the importance of clear communication with your horse and working on a consistent disciplined training plan to reach your goals rather than turning to quick-fix training aids. Lessons focus on the importance of solid flatwork and include simple exercises to help improve both horse and rider, and their understanding of one another.
This clinic will be a great learning experience for anyone from cross rails to Grand Prix jumpers.
The facilities at Trade Winds Farm include outdoor and (heated) indoor arenas with superb all-weather footing and show quality jump courses. Plenty of seating for auditors.
Please note: Riders must supply full payment and required horse health papers prior to the event. Auditors may pay the day of event, no registration required but pre-registration is encouraged so we have an accurate head count for meals.
Organizer Notes
Catered lunch will be provided to all participants both days.

Horse health papers must be submitted prior to arrival.
Riders must sign waiver and health statement prior to clinic beginning.
2 Day Clinic
Instructor: Ronny Riemer
$400.00
Member/Boarder Price:

$350.00
Late Fee

$50.00

Hay

$12.00

Shavings

$7.50

Refund fee

$50.00
Tests/Experience
2 Day Clinic Levels
Beginner Novice
Novice
Training
Modified
Preliminary
Intermediate
Advanced
Poles-18"
2'3"
2'6"
2'9"
3'3"
3'6"
3'9"
4'0"
4'3"
4'6"
4'9"
Administrative Information
Ride Time: Clinic Schedule:
Saturday 11/2 Warm-up techniques and gymnastics
Group A: 8:30 - 9:30
Group B: 10:00 - 11:30
Lunch 11:45 - 1:00 featuring Q&A with our clinician
Group C: 1:30 - 3:00 Sunday 11/3 Course Work
Group A: 8:30 - 9:30
Group B: 10:00 - 11:00
Lunch 11:30 - 1:00 featuring Horse Nutrition Seminar
Group C: 1:30 - 2:30Lunch on Saturday is provided by Lukens Horse Transport
Lunch on Sunday is provided by Pro Elite Feed

Trailer Direction:

Easily accessible from I87 and 890. Room for large trailers.

Change Policy:

Changes are not permitted.

Refund Policy:

Refunds are permitted before registration closes.

Entry Option(s) Secure Spot: Pay in full via STRIDER Reserve Spot Via STRIDER, Mail Check