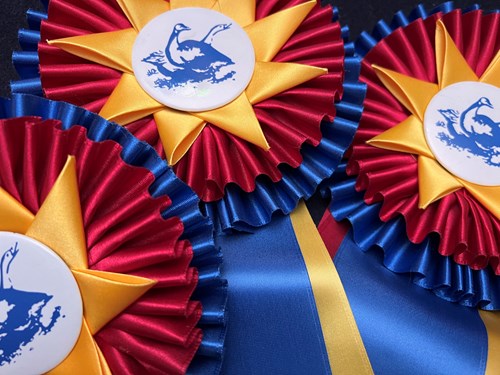 2022 Blue Goose CT Championship

11/19/2023
Organizer:

Darcy Miller

bluegooseshows@gmail.com

610-999-5231
Join us for our 2023 Combined Test Series Championship. If you have competed at two of 2022 Combined tests you are qualified! Enter the Championship class. We will have awesome prizes! Entries are open for non Championship classes too. You may also enter an open class and a championship class at the same level. We offer levels from Leadline to Preliminary. Our series culminates with this Championship show as well as our series year end awards. Visit our website to enroll in our year end series awards. Our CT is a member show with DVCTA. Please list your DVCTA membership number. Please note there is an Office fee and EMT listed at the bottom of the class selections that are mandatory.
Organizer Notes
Changes are permitted before registration closes. Refunds less office fee prior to closing date only.
Hospitality table with snack and beverages available.

Puddle Jump CT Championship
$95.00
Elementary CT Rider
$80.00
Elementary CT Horse
$80.00
Elementary CT Championship
$95.00
Open Elementary CT
$80.00
Open Elementary CT Championship
$95.00
Pre Intro CT Championship
$95.00
Introductory CT Rider
$80.00
Introductory CT Horse
$80.00
Introductory CT Championship
$95.00
Beginner Novice CT Rider
$80.00
Beginner Novice CT Horse
$80.00
Beginner Novice Championship
$95.00
Novice CT Championship
$95.00
Open Novice CT Championship
$95.00
Open Training CT A
$80.00
Open Training CT B
$80.00
Open Training CT Championship
$95.00
Open Modified CT A
$80.00
Open Modified CT B
$80.00
Open Modified CT Championship
$95.00
Open Preliminary CT A
$80.00
Open Preliminary CT B
$80.00
Open Preliminary CT Championship
$95.00
Dressage Only Event Test 1
$40.00
Dressage Only Event Test 2
$40.00
Additional SJ Round
$25.00
Office Fee

$10.00

EMT

$7.00
Administrative Information
Ride Time:

Ride times will be posted on FB, our website, and emailed to competitors with emails on file.

Trailer Direction:

Parking is located in the field on the west side of the property. All Trailers park on the left and ALL CARS park facing the fence line. No traffic is allowed on the main driveway.

Change Policy:

Changes are permitted before registration closes.

Refund Policy:

Refunds are permitted before registration closes.

Entry Option(s) Secure Spot: Pay in full via STRIDER