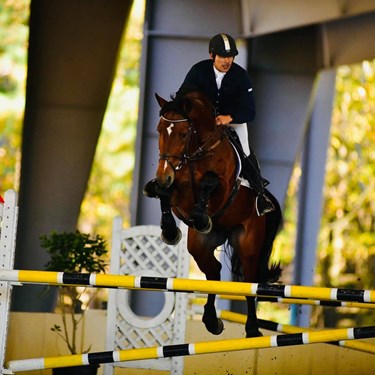 Show Jumping Clinic with Daniel Sarango

3/13/2021
Organizer:

Le Bonheur Equestrian

lebonheurequestrian@gmail.com

706-847-8737
Join us for a show jumping clinic with Daniel Sarango on Saturday, March 13th!
Daniel Sarango is not only a 3-star Eventing rider who also competes in Mini Prix show jumping, but he is also a breeder of eventing and show jumping sport horses. He has also been selected by Ecuador 2 times for the Pan American Games and South American Games.
Daniel's program produces high quality sport horses, starting from the process of inseminating the mares, raising and starting the young horses, and finally taking them to compete in the big ring.
Daniel is a horseman who specializes in development of young horses. Horses in his program have already obtained good results in the Young Horse Series championship, obtaining 6 best placements out of 100 horses.
Icarus was 2nd place in 2 year old free jumping, Trip 6th place in 2 year old free jumping, Howitzer CSF 6TH place in 3 year old free jumping, Bianca National Champion in 4 year old free jumping and 6th place under saddle jumping, Koninklijke Diamant DS Champion in 4 year old jumpers under saddle, 3rd place in 5 year old jumpers under saddle, 3rd place in the Tryon derby.)
Koninklijke Diamant DS was recently the winner of the $5000 Welcome, and second place in the Mini Prix at Elite Show Jumping.
Daniel also has experience working with stallions, and taking them through the approval process.
He is an accomplished trainer, and has experience working with horses and riders of all ages and levels.
The clinic will begin at 8 AM on Saturday, and will be divided into 2 hour blocks for group lessons with 4-5 riders per group, or 45 minute blocks for a private lesson. Groups will be based on experience level of the horse and rider.
Cost for the clinic is $85 for a group session, or $100 for a private session. If all spots fill on Saturday, the clinic may be extended to Friday. Stabling is also available for $40. We will be hosting a GDCTA approved combined training, dressage and jumper show on Sunday March 14th and encourage all riders to attend!
Link to Combined Training Show: https://www.striderpro.com/a/JMqSkmej3UuQ7Xf7j9xf9g
Organizer Notes
Please note experience level on entry form to allow formation of appropriate groups.
Grounds fee required unless stabling.
Please include e-mail address on entry.
Grounds Fee

$10.00

Full Stabling

$40.00
Administrative Information
Ride Time:

Ride times will be posted on Facebook and e-mailed prior to the clinic.

Change Policy:

Changes are permitted before registration closes.

Refund Policy:

No refunds.

Entry Option(s) Secure Spot: Pay in full via STRIDER