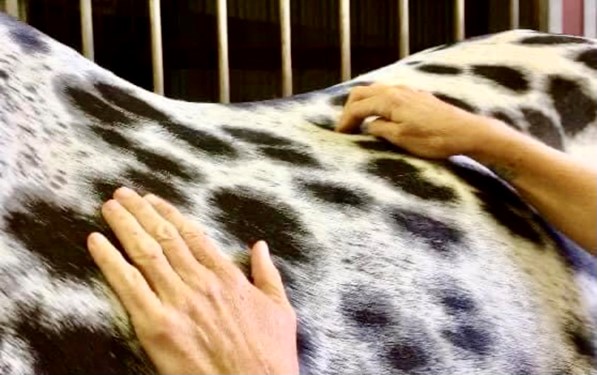 Intro to Equine Bodywork Clinic

7/8/2023
Organizer:

Abby Gibbon

abby.gibbon@gmail.com

301-814-5887
Want to connect with your horse on a new level, learn to read their reactions, and help them feel better all at the same time? Join us for our "Introduction to Equine Bodywork" clinic with Leigh Bender (ESMT, CST, CRP, MAT, PATH) of Moonsong Touch, LLC!
This 3.5 hour clinic offers the opportunity for group study and hands-on practice. Bring your own horse, or use one of ours! Auditors are welcome for a small fee. Drinks and snacks provided. Opportunities to add same-day individual/private sessions with Leigh immediately after the clinic are available.
Tentative Schedule below. Liability release must be signed, and coggins received for any trailer-in horses -- please speficy with your entry whether you'll be bringing your own horse or using one of ours. Please contact abby.gibbon@gmail.com or 301-814-5887 with any questions!
Introduction to Equine Bodywork Schedule
1. Introductions
2. The "What" and "Why" of Bodywork (brief discussion)
-horse/human connection
-functionality and behavior
-comparative anatomy and physiology
3. Connection Exercises (group practice, humans only)
-principles of position, proximity, body language
-mindfulness, awareness, intention:
-seeing vs. looking
-breath work
-hand position and touch
4. Principles of "Reactivity" and "Release" (interactive narrated demonstration)
--- Short break, fetch horses ---
5. Guided Application: Connection Exercises in Practice (group practice with horses)
6. Guided Evaluation and Assessment: (group practice with horses)
-Finding and addressing pain/dysfunction: The "Body Tracing Sequence"
7. Problem Solving: Techniques for Common Issues (group practice with horses)
-back pain
-girthiness
-farriery
-anxiety
8. Open Q&A
9. Individual Private Session Scheduling
Organizer Notes
Cancellations with full refund allowed until closing date of Tuesday, July 4. After the closing date, no refunds or cancellations allowed.
1 Day Clinic
Instructor: Leigh Bender
$65.00
Administrative Information
Ride Time:

Clinic details will be emailed to partipants a few days in advance.

Trailer Direction:

Trailer-in directions will be emailed closer to the day. Please let Abby know if you are planning to trailer in.

Change Policy:

Changes are permitted before registration closes.

Refund Policy:

Refunds are permitted before registration closes.

Entry Option(s) Secure Spot: Pay in full via STRIDER