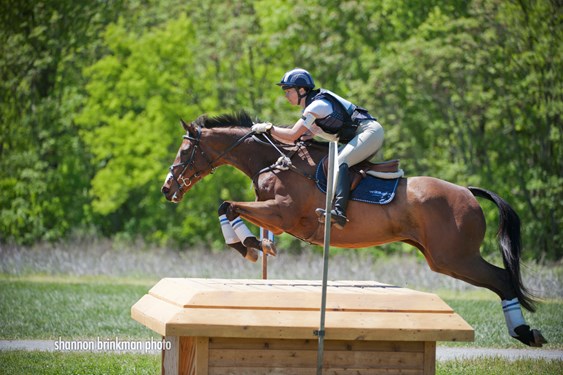 Kelley Williams Cross Country Clinic (Week with the Pros)

10/17/2019
Late entries allowed until 10/13/2019
Organizer:

Kelley Williams

kelley@abitbetterfarm.com

Join Kelley Williams for cross-country schooling at Loch Moy Farm, home of The Maryland Horse Trials. This clinic will be held on the COMPETITION course, which has jumps ranging in levels from Elementary all the way through Intermediate including water, ditches and banks for all levels. This is the perfect opportunity to get a lesson from one of our area's most popular instructors on one of our area's best competition courses.
All lessons will be small groups (no more than 4 riders, for approximately 1.5 hours each).
COST: $70 directly to Kelley Williams, plus $75 MDHT schooling fee
*Don't forget that people who volunteer for MDHT #3 or Fall Starter #2 will be the only riders who will get to use their schooling passes for Week with the Pros! To sign up to volunteer, visit: www.eventingvolunteers.com*
NOTE: ALL riders must pay the haul-in/schooling fee and sign a LMF waiver BEFORE YOU TAKE YOUR HORSE OFF OF THE TRAILER.
MORE ABOUT KELLEY WILLIAMS: Known for her absolute dedication to her horses, her students, and her wonderfully supportive family, Kelley has developed A Bit Better Farm from a small family barn to a leading event facility. Possessing an enviable amount of patience, she is a naturally gifted trainer and instructor who always seems to know what her pupils need, whether they be human or equine. Kelley draws great gratification in her teaching and coaching, and firmly believes that she learns as much from her students as they learn from her. Her loyal group of students include everyone from aspiring competitors looking to complete their first starter horse trials to dedicated eventers aiming for their first one-star to adult amateurs simply wanting to build a better relationship with their horse.
Organizer Notes
Remember that you "own" your lesson slot. If you're not able to come you're responsible for either filling the slot or paying for it. We will of course make my best effort to fill it, but we can't make any guarantees.
1 Day Clinic
Instructor: Kelley Williams
$70.00
Haul-in Fee

$75.00

Late Fee

$15.00
Tests/Experience
1 Day Clinic Levels
Introductory
Elementary
Beginner Novice
Novice
Training
Modified
Preliminary
Administrative Information
Ride Time: Will be emailed out the week of the clinic, and posted to www.abitbetterfarm.com's news page.
Trailer Direction:

Park in main lot across from secretary.

Change Policy:

Changes are permitted before registration closes.

Refund Policy:

Refunds are permitted before registration closes.

Entry Option(s) Secure Spot: Pay in full via STRIDER Reserve Spot Via STRIDER, Mail Check