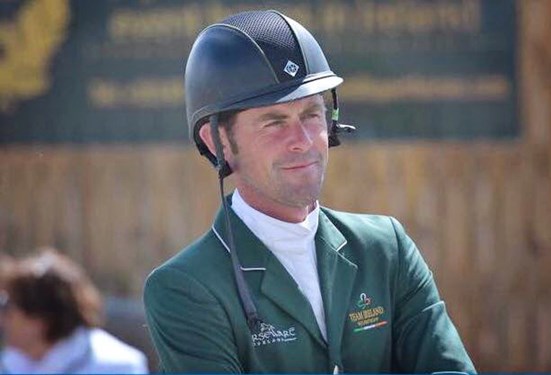 Indoor XC & SJ Clinic with Irish Olympian Joseph Murphy
12/1/2018 − 12/3/2018
Organizer: Jenni Autry
Due to high demand Irish Olympian Joseph Murphy is returning to Kealani Farm in West Grove, Pennsylvania on Dec. 1-2 to teach another clinic utilizing indoor cross country and show jumping exercises. The course will be changed both days so riders participating on both Saturday and Sunday will find totally new exercises to test their skills. Riders and horses of all levels are welcome. Prepare to be challenged and most importantly to have a lot of fun.
The clinic also coincides with the USEA Area II Annual Meeting in nearby Kennett Square. Joseph will speak about how he got his start in eventing during the afternoon training symposium at Kealani Farm on Saturday. This is a fantastic opportunity to learn from one of the world's best cross country riders. Come into town for the annual meeting on Saturday and stay to ride with Joseph on Sunday or Monday. Anyone in need of stabling can contact Jenni Autry at jkautry@gmail.com. More information on the annual meeting: https://www.usea2.net/
Sign-up details:
• Cost is $150 for one day, $280 for two days and $400 for three days. Please pay in full via Event Clinics when you register. We have limited availability for private lessons. Please email jkautry@gmail.com for availability.
• A portion of clinic fees will be donated to the David Foster Injured Riders Fund in support of Jonty Evans and his continued recovery from a traumatic brain injury. Auditors are again welcome for a donation in support of Jonty: https://www.davidfosterinjuredridersfund.ie/
• There is a $25 ring fee per day that can be paid by check or cash to Melissa Stubenberg at the clinic. Waivers will be available to sign at the clinic.
Contact Jenni Autry at 717-254-9630 or jkautry@gmail.com with any questions. We look forward to welcoming everyone back!
Organizer Notes
Jenni Autry

jkautry@gmail.com

7172549630
1 Day Clinic
Instructor: Joseph Murphy
$150.00
2 Day Clinic
Instructor: Joseph Murphy
$280.00
3 Day Clinic
Instructor: Joseph Murphy
$400.00
Tests/Experience
1 Day Clinic Levels
Beginner Novice
Novice
Training
Modified
Preliminary
Intermediate
Advanced
2 Day Clinic Levels
Beginner Novice
Novice
Training
Modified
Preliminary
Intermediate
Advanced
Administrative Information
Trailer Direction:

There is a turn around for trailers at the farm. Please try to stay off the grass.

Change Policy:

Changes are permitted before registration closes.

Refund Policy:

Refunds are permitted before registration closes.

Entry Option(s) Secure Spot: Pay in full via STRIDER