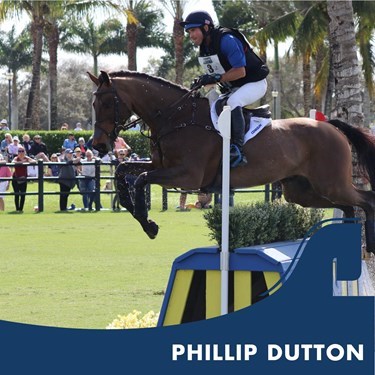 EQUITANA USA: Cross Country Training in the Arena with Phillip Dutton

10/1/2021 − 10/2/2021
Organizer:

Nicole Forbes

nicole.forbes@rxglobal.com

nternational Eventer and Olympic Medalist Phillip Dutton will teach a Cross Country Training in the Arena Clinic at EQUITANA USA 2021 to take place at the Kentucky Horse Park. Join us for an exclusive two days of eventing training with two-time Olympic gold medalist Phillip Dutton!
EQUITANA USA is pleased to partner with STRIDER, the leading equestrian bookings platform, to enable applications and payment for this premier opportunity. To submit your application to ride in this clinic session via STRIDER, visit: https://bit.ly/applyequitana
As one of the original clinicians for the popular Rutledge Farm Sessions clinic series based out of Middleburg, Virginia, Phillip Dutton will share his vast knowledge and experience as one of the world's leading eventing riders.
His clinic will be an educational opportunity you won't want to miss!
Spots are limited and will be offered for riders at all skill levels.
Each session will focus on a different training technique, with four different sessions offered each day of the clinic to include flatwork for jumping, gymnastics, cross country exercises and jumping courses.
Auditors are welcomed and encouraged to attend this exciting event! General Admission tickets to EQUITANA USA can be purchased here: https://equitanausa21.com/Strider-Pro
ABOUT PHILLIP DUTTON:
Phillip Dutton is a seven-time Olympian in Eventing who represented Australia, his birth nation, in 1996, 2000, 2004) and represented the United States (2008, 2012, 2016,2020). He is a three-time Olympic medalist (2 golds, 1 bronze), and has ridden at the highest levels of the sport.
Having been awarded Leading Rider in the USEA more than 12 times, his leadership in the industry includes serving as a founding member of the Eventer Riders Association of North America, and on the organizing committee for Plantation Field International Horse Trials. Phillips also dedicates much of his time to coaching other riders. He has served as the coach of Area II Young Riders as well as the coach to a number of the USEF Eventing High Performance riders.
Phillip and his wife, Evie, own, manage and train out of True Prospect Farm in West Grove, Pennsylvania, and at their Red Oak Farm in Aiken, South Carolina.
Organizer Notes
Please attach your horse's negative coggins and proof of vaccination within 6 months along with your entry.
Cross Country Training In the Arena
$250.00
Administrative Information
Ride Time: This clinic is scheduled for 2:45pm-4:15pm. For more details, visit: https://www.equitanausa.com/en-gb/at-the-show/education-schedule/session-details.2246.85663.xc-training-in-the-arena.html
Change Policy:

Changes are not permitted.

Refund Policy:

No refunds.

Entry Option(s) Secure Spot: Pay in full via STRIDER