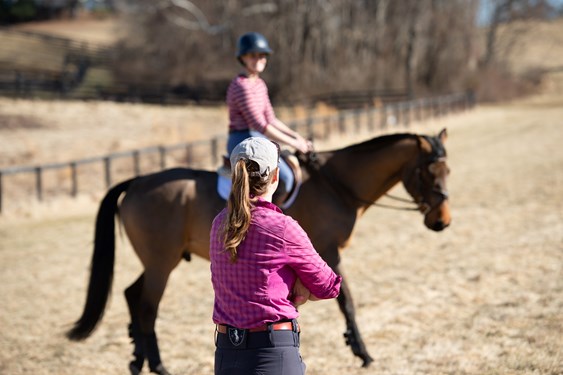 Intro to Eventing & Fix-A-Test

6/18/2023
Late entries allowed until 6/10/2023
eWaiver Link(s)

Organizer:

Jessica Markiewicz

jessica.k.markiewicz@gmail.com

(617)519-4139
Intro to Eventing at Southern Heritage Farm on Sunday, June 18th. These Simulated Starter Horse Trials consists of all three phases (dressage, show jumping, cross country) in an unrecognized/starter format with coaching throughout all 3 phases. The trials have opening and closing dates, just like the USEF/USEA Recognized Horse Trials.
Opening: May 1, 2023
Closing: June 3, 2023
Late Closing: June 10, 2023
Extended Late Closing Fee: $25
Starter: USDF 2023 Introductory Test B - small arena (20m x 40m) (Walk, Trot) 18" jumps
Introductory: USDF 2023 Introductory Test C - small arena (20m x 40m) (Walk, Trot, Canter) 18" jumps
Elementary: 2022 USEA Starter Test - small arena (20m x 40m) (Walk, Trot, and Canter) 2' jumps
Beginner Novice: USEF 2022 BN Eventing Test B- small arena (20m x 40m) 2'3" jumps
OUR INSTRUCTORS:
Jessica Markiewicz grew up and learned to ride in Massachusetts. Her passion for horses was born and cultivated at a small grassroots eventing farm. After finishing college, she moved to Maryland to pursue riding and training full-time. Jessica has worked as a trainer, manager, and professional groom along the east coast, from New England to Florida. She has competed through the Intermediate/CCI2**-L level of eventing, and has a special interest in producing young OTTBs for the amateur eventing market. She has been fortunate to work closely with great influences such as Stephie Baer, Buck Davidson, Natalia Neneman, and Sharon White. Jessica enjoys bringing students along from the foundation of the sport, and focuses on building a confident, empathetic relationship between horse and rider, whether the goals are competitive or recreational in nature. Safety, good horsemanship, and enjoyment of the horse are cornerstones of her training philosophy.
Lucy Valandra has competed through the FEI levels in Eventing, is a USDF Bronze Medalist, and is currently competing her horse at Fourth Level in dressage while pursuing her "L" Candidacy towards becoming a judge. With a passion for teaching young riders and adult amateurs the sport, she loves seeing her riders shine. Her positive coaching makes each lesson fun and exciting while riders develop the skills and confidence to progress with their riding and horsemanship.
ENTRY PROCEDURES:
Entries will be accepted ONLY through StriderPro. No paper or emailed entries.
You can enter, scratch, change horse, rider or level until the closing date for free, without having to contact the secretary.
After the closing date, you will contact the secretary to make changes. Changes are $25 for horse or rider; changing levels is free.
All early bird and final closing dates will be posted on StriderPro.
StriderPro does not allow unpaid or incomplete entries. You must pay in full, submit a current coggins and digitally sign your Southern Heritage Farm waiver at the time of entry.
FEE SCHEDULE:
Payment: All payments must be completed on Strider Pro. No checks, no cash, no website or Venmo payment.
Horse Trial: $150 (late fee after closing date is $25);
Dressage Fix-A-Test (Small Arena Only USEF Introductory - Second Level and USEA Tests Starter-Training Level allowed): $60
Tentative Schedule:
This schedule is tentative. Please check website for day/time changes.
Sat: Cross Country 101 for those who have not yet ridden cross country or want a refresher before Sunday. Please contact Jessica directly if interested in Cross Country 101 on Saturday!
Sun: Course Walk 9AM; Dressage - 10 AM; Show Jumping - 11 AM; Cross Country 12 PM.
Final competition schedule will be determined by the number of entries in each division. PLEASE CHECK WEBSITE FOR CHANGES!

REFUND POLICY:
Refunds: Scratch through the close date with a full refund. AFTER THE FINAL CLOSING DATE, NO REFUNDS OR CREDITS WILL BE ISSUED.
Wait list: If there is a wait list, a full refund or credit will be issued to any scratch whose spot can be filled off the wait list. Entries may not be transferred or sold to others if there is a wait list.
Show cancellation: If for any reason the show is canceled, there is no refund. Credits may be issued as circumstances allow.
OTHER RULES and NOTES
All riders required to wear ASTM/SEI approved helmet when mounted and a protective vest when going cross country.
No water or banks on the cross country course.
Scheduling requests must be submitted with your entry. Not all requests can be fulfilled. Put your requests in your StriderPro entry!
Ride times will be posted on the THURSDAY before the show on the homepage at southernheritagefarm.com.
Vet and farrier will be on call. Numbers will be posted at the show office. Inquire for number at office if help is needed.
No unauthorized motor vehicles of any kind allowed on course or near dressage area.
NO unleashed dogs. Unleashed dogs will incur $100 fine and competitor elimination.

Organizer: Jessica Markiewicz, (617)519-4139, jessica.k.markiewicz@gmail.com
Secretary: Lucy Valandra, (734)358-4946, lucydvalandra@gmail.com
Organizer Notes
Tests/Experience
Horse Trials Levels
Elementary
Introductory
Starter
Beginner Novice
Fix-A-Test Tests
USDF 2023 Intro - Test A
USDF 2023 Intro - Test B
USDF 2023 Intro - Test C
USEF 2023 Training Level - Test 1
USEF 2023 Training Level - Test 2
USEF 2023 Training Level - Test 3
USEF 2023 First Level - Test 1
USEF 2023 First Level - Test 2
USEF 2023 First Level - Test 3
USEF 2023 Second Level - Test 1
USEF 2023 Second Level - Test 2
USEF 2023 Second Level - Test 3
USEF 2022 BN- Test A
USEF 2022 BN- Test B
USEF 2022 Novice- Test A
USEF 2022 Novice- Test B
USEF 2022 Training- Test A
USEF 2022 Training- Test B
USEF 2022 Prelim- Test A
USEF 2022 Prelim- Test B
Administrative Information
Ride Time:

Ride times will be emailed and posted on the website.

Trailer Direction: Directions:
From Fredericksburg:
Take Rt. 17 North toward Warrenton for approximately 20 miles. (You will see a giant roller skate on the right). Take the next Right onto Ritchie Road. Follow for 2 miles. Turn Left onto Rogues Road. Follow for 2 miles. Turn left into driveway. (Driveway is immediately after a Christmas Tree Farm). Arena is past the barns.From Warrenton:
Follow Meetze Road 9 miles. Turn Right onto Rt. 28S (Catlett Road). Follow for 2 miles, turn Left onto Rt, 610 (Midland Road). Go over Railroad tracks, turn Right onto Rogues Road. Follow for 1.5 miles. 11176 is on the Right. If you pass a Christmas Tree Farm you have gone too far.
Change Policy:

Changes are permitted before registration closes.

Refund Policy:

Refunds are permitted before registration closes.

Entry Option(s) Secure Spot: Pay in full via STRIDER