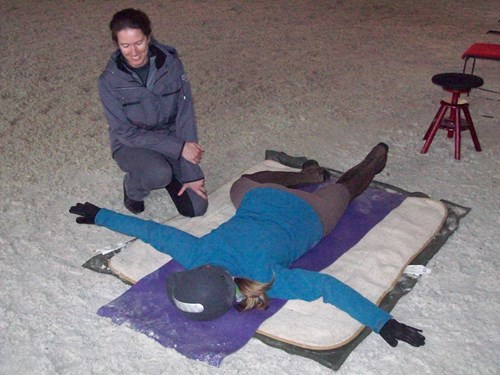 Interactive Unmounted BALIMO Workshop With Barbara Strawson

10/2/2022
Organizer:

Athena Haresign

athena@horsejitney.com

3015268273
This biomechanics workshop is for riders of ALL levels and ALL disciplines!
This Balimo Workshop has a morning unmounted lecture and audience participation that includes learning specific movements to warm up your body before riding, improve body awareness, and set your ride up for success. You'll learn how specific movements can unlock your body and set your ride up for success. The morning session is 9-1 with mounted sessions starting at 1.
Attendees of the morning workshop are encouraged to stay to watch how the riders respond to the specific movements they will be asked to do during their rides. Riders will begin on the horse but will be asked to dismount, perform specific exercises (audience can do them along with the rider), then remount the horse to see the difference.
Balimo stands for Balance in Motion. The Balimo Equestrian Program is a system of bodywork awareness that is designed to improve a rider's harmony and communication with his horse. This program offers vital tools to enhance effectiveness to riders of all levels and disciplines. It integrates a mind/body approach to riding and teaches skills to enhance body awareness and feel while riding.
The program provides exercises to unblock obstacles which prevent us from communicating clearly with the horse. You will learn exercises which supple you both physically and mentally. These exercises can be performed before riding and sometimes on the horse as well. The unmounted sessions will provide an overview of the Balimo program theory and provide you with general warm up exercises which access each area of the body. The mounted sessions target specific areas for each rider and the rider is able to feel the benefit of the exercise by riding the horse after each exercise is performed.
The clinician watches the horse and rider's basic warm-up and identifies specific points where the movement from the horse is blocked, or stopped, in the rider's body. The rider may be asked to dismount, do a specific stretch or exercise and then remount and see if the exercise has made a positive change.

In Eckart Meyner's words " You cannot learn to ride better simply by riding more. You must correct the rider's ability to move with the horse's natural motion to see real improvement in the performance."

Organizer Notes
Please wear loose fitting clothing or breeches you can move in and bring a yoga mat! Plan to sign up for lunch or bring your own as we will be having an interactive discussion during lunch with Barbara Strawson.
Administrative Information
Change Policy:

Changes are permitted up to 3 day(s) before registration closes.

Refund Policy:

Refunds are permitted up to 3 day(s) before activity begins.

Entry Option(s) Secure Spot: Pay in full via STRIDER