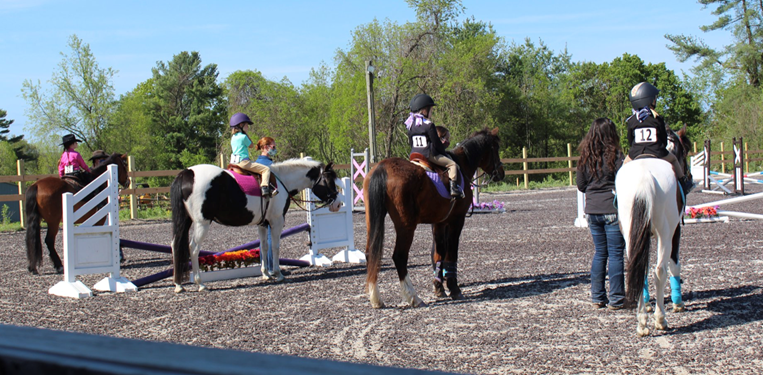 Azrael Acres Horse Show

8/19/2023
Organizer:

Faith Perini

azraelacres@yahoo.com

508-918-4531
Pre Entries MUST be received the Friday before the show - NO EXCEPTIONS!
Post Entry is $18.00/class
***$10.00 Office Fee is included in division fee***
** If you are in an aged division please put riders age in "Notes to Organizer" when entering**
NO DOGS ALLOWED ON THE PREMISES - Regardless of Leash
ABSOLUTELY NO SCHOOLING OVER CROSS COUNTRY JUMPS
A helmet must be worn at all times when mountes
Please use the parking field or warm-up ring for lunging
Minimum of three riders for Championship ribbons to be awarded in a division
All ages are of January 1st
Riders must compete in a minimum of two shows to qualify for Year End Awards
Cross Entries - Walk/Trot riders may not cross enter into any canter divisions
Riders who enter a X-Rail Class may not enter into other jumping classes except the
Try 2' Class and the Unjudged Warm-up.

Organizer Notes
If in an aged division please put age in "notes to organizer" Thank you!!
1. Leadline (8yrs and under)
$70.00
2. Beginner Walk/Trot (9 yrs and under)
$70.00
3. Advanced Walk/Trot (riders 10-15 yrs old)
$70.00
4. Adult Walk/Trot (riders 16 yrs and older)
$70.00
5. Walk/Trot X-rails Under Saddle
$70.00
6. Short Stirrup (13 yrs and under)
$70.00
7. Junior (riders under 18 yrs old)
$70.00
8. Adult Division (18 yrs and older)
$70.00
9. Open X-rail Division
$70.00
11. Novice Equitation 2'3
$70.00
Administrative Information
Change Policy:

Changes are not permitted.

Refund Policy:

No refunds.

Entry Option(s) Secure Spot: Pay in full via STRIDER