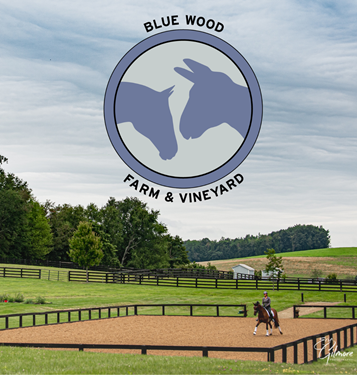 Dressage Schooling Show at Blue Wood Farm & Vineyard, LLC

7/16/2022
Late entries allowed until 7/13/2022
eWaiver Link(s)

Organizer:

Natasha Sprengers-Levine

natasha@bluewoodfarm.com

Blue Wood Farm & Vineyard, LLC in Millbrook, NY will host a dressage schooling show suitable for horses and riders of all levels. Come practice your USEF/USDF USEA or FEI dressage tests in a great atmosphere.
We are pleased to welcome Krystal Wilt as our judge. Krystal is a USDF L Program Graduate with Distinction, USDF Silver & Bronze Medalist & is currently enrolled in the USEF r Judge Training Program. She joins us from Cherry Ridge Dressage (Glenville, NY). For more details, visit: https://www.cherryridgedressage.com/about
*Warmup will be on grass, tests to be ridden on FootingFirst's TravelRight Footing
ENTRY INSTRUCTIONS:
*All entries must select the $10 mandatory office fee as well as a test selection
*Entries will only be accepted via STRIDER, no paper entries nor check payments will be accepted
*Proof of negative Coggins and Flu/Rhino vaccination must be uploaded to STRIDER at the time of entry
*Follow the waiver link to sign our waiver DIGITALLY
*Riders will receive a confirmation email from STRIDER when entry is complete
*For more details on submitting payment with CC via STRIDER's PayPal payment gateway, visit: https://info.striderpro.com/guide-striderentryconfirmation/
*Any/ all other questions & special requests can be sent via email to natasha@bluewoodfarm.com
For more information on our facility, visit https://www.bluewoodfarm.com
We are grateful for support from Blue Steed Embroidery and HorseWorks Insurance Specialists who have helped make this show possible.
Organizer Notes
This show has a no refund policy. Late entries will be accepted through 7/13 plus a $25 late fee. Negative coggins & proof of Flu/Rhino vaccination within 6 months must be uploaded to STRIDER at the time of entry.
If show is canceled at management's discretion, we will issue refunds less $15 to cover processing costs.
Water is available on grounds near trailer parking, there will not be food available for purchase but we will happily recommend local eateries :)
Secretary/Office Fee

$10.00

Late Fee

$25.00

Change fee

$15.00
Tests/Experience
Dressage Show Tests
CCI*
CCI** - Test A
CCI** - Test B
CCI*** - Test A
CCI*** - Test B
CCI**** - Test A
CCI**** - Test B
CCI***** Test A
CCI*****- Test B
FEI 2017 Preliminary Test - 5 Year Old
FEI 2017 Preliminary Test - 6 Year Old
FEI 2017 Preliminary Test - 7 Year Old
FEI 2018 Junior Test - Indiv
FEI 2018 Junior Test - Prelim
FEI 2018 Junior Test - Team
FEI 2018 Pony Test - Indiv
FEI 2018 Pony Test - Prelim
FEI 2018 Pony Test - Team
FEI 2018 Prix St. Georges
FEI 2018 U25 Grand Prix
FEI 2018 Young Rider Test - Indiv
FEI 2018 Young Rider Test - Prelim
FEI 2018 Young Rider Test - Team
FEI 2020 Grand Prix
FEI 2020 Grand Prix Special
FEI 2020 Intermediate A
FEI 2020 Intermediate B
FEI 2020 Intermediate I
FEI 2020 Intermediate II
Rider Choice
USDF 2019 Fourth Level Freestyle
USDF 2019 Intro - Test A
USDF 2019 Intro - Test B
USDF 2019 Intro - Test C
USEF 2022 Adv- Test A
USEF 2022 Adv- Test B
USEF 2022 BN- Test A
USEF 2022 BN- Test B
USEF 2022 Interm- Test A
USEF 2022 Interm- Test B
USEF 2022 Modified- Test A
USEF 2022 Modified- Test B
USEF 2022 Novice- Test A
USEF 2022 Novice- Test B
USEF 2022 Novice- Three-Day
USEF 2022 Prelim- Test A
USEF 2022 Prelim- Test B
USEF 2022 Prelim- Three-Day
USEF 2022 Training- Test A
USEF 2022 Training- Test B
USEF 2022 Training Three-Day
USEF 2019 First Level - Test 1
USEF 2019 First Level - Test 2
USEF 2019 First Level - Test 3
USEF 2019 Fourth Level - Test 1
USEF 2019 Fourth Level - Test 2
USEF 2019 Fourth Level - Test 3
USEF 2019 Second Level - Test 1
USEF 2019 Second Level - Test 2
USEF 2019 Second Level - Test 3
USEF 2019 Third Level - Test 1
USEF 2019 Third Level - Test 2
USEF 2019 Third Level - Test 3
USEF 2019 Training- Test 1
USEF 2019 Training- Test 2
USEF 2019 Training- Test 3
USEF Western Dressage Basic Test 1
USEF Western Dressage Basic Test 2
USEF Western Dressage Basic Test 3
USEF Western Dressage Basic Test 4
USEF Western Dressage Intro Test 1
USEF Western Dressage Intro Test 2
USEF Western Dressage Intro Test 3
USEF Western Dressage Intro Test 4
WDAA Basic - Test 1
WDAA Basic - Test 2
WDAA Basic - Test 3
WDAA Basic - Test 4
WDAA Coached Test 1
WDAA Coached Test 1 Walk Only
WDAA Coached Test 2
WDAA Coached Test 3
WDAA Exceptional Rider Tests
WDAA Freestyle - Level 2
WDAA Intro - Test 1
WDAA Intro - Test 2
WDAA Intro - Test 3
WDAA Intro - Test 4
WDAA Leadline A
WDAA Leadline A Walk Only
WDAA Leadline B
WDAA Level 1 - Test 1
WDAA Level 1 - Test 2
WDAA Level 1 - Test 3
WDAA Level 1 - Test 4
WDAA Level 2 - Test 1
WDAA Level 2 - Test 2
WDAA Level 2 - Test 3
WDAA Level 2 - Test 4
WDAA Level 3 - Test 1
WDAA Level 3 - Test 2
WDAA Level 3 - Test 3
WDAA Level 3 - Test 4
WDAA Level 4 - Test 1
WDAA Level 4 - Test 2
WDAA Level 4 - Test 3
WDAA Level 4 - Test 4
Administrative Information
Ride Time:

Ride times will be emailed out the Wednesday prior to the show.

Trailer Direction:

Please note that our driveway is narrow in some places. Parking will be on grass next to the competition arena, be mindful of signage.

Change Policy:

Changes are permitted up to 5 day(s) before registration closes.

Refund Policy:

No refunds.

Entry Option(s) Secure Spot: Pay in full via STRIDER