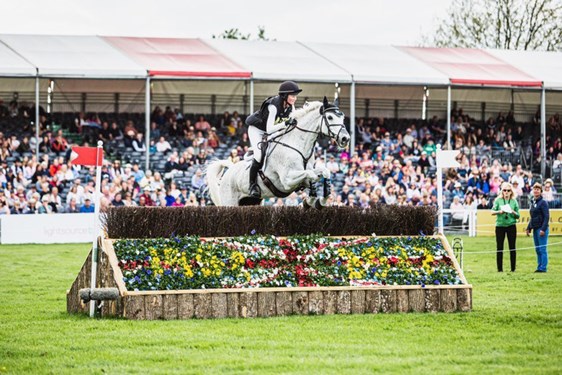 Emily Hamel Eventing Clinic

10/8/2022 − 10/9/2022
Organizer:

Emily Hamel

hameleventing@gmail.com

4846783078
After spending the summer in England to train and compete at Badminton and Burghley, Emily is excited to share the knowledge that got her there with students of all ages and abilities.
Jump lessons will focus on rideability exercises to set riders up for success in the coursework that follows. Saturday will focus on SJing and Sunday will focus on XC for those that want or you can do another SJ lesson if you prefer. The groups will be small (2-3 riders max) so that Emily can give everyone the individual attention they deserve. She is also available for private dressage lessons (if you don't want to jump) where she will emphasize correct basics first and then build from there. If you would like any of these options please mention that in special requests on your entry so that we can accommodate this in the schedule.
In addition, Emily will lead a morning yoga session each day where she will talk about the benefits of yoga, how it has improved her riding, and guide students through some basic asanas (postures) that will improve life in and out of the saddle. This is free to clinic participants and a small fee for others who are interested. Also, over the lunch break, Emily will have a Q & A session where you can bring any and all questions to the table.

Emily truly loves to teach and pass on what she has learned through her experiences. Whether it's at home or at her clinics around the country, she gives each student the individual attention they need to succeed. Her patience, clarity, and understanding of what it takes to ride a horse well encourage each horse and rider to find their true potential.
ROUGH SCHEDULE (exact timing will depend on final entries and the weather)
*Saturday (All at Breakthrough Equestrian)
- 8-9 am - Group yoga (no experience required)
- 9:30 am -12:30 pm - Group SJ lessons and private dressage lessons
- 12:30 pm - 1:30 pm - Lunch Break (Q & A with Emily)
-1:30 pm - ??? - Group SJ Lessons and private dressage lessons
*Sunday (At Breakthrough Equestrian morning/early afternoon and then Windurra afterward)
- 8-9 am - Group yoga (no experience required)
- 9:30 am -12:30 pm - Group SJ lessons and private dressage lessons
- 12:30 pm - 1:30 pm - Lunch Break (Q & A with Emily)
- 2:30 pm - ??? - Group XC lessons at Windurra NOTE: Additional schooling fee to be paid to Windurra for use of XC course

Organizer Notes
1 Day Clinic (Saturday)
$125.00
1 Day Clinic (Sunday)
$125.00
2 Day Clinic (Saturday & Sunday BEST VALUE)
$200.00
Yoga Class Saturday (non-clinic participant)
$15.00
Yoga Class Sunday (non-clinic participant)
$15.00
Administrative Information
Ride Time:

Ride times will be emailed to riders by October 1.

Change Policy:

Changes are permitted before registration closes.

Refund Policy:

Refunds are permitted before registration closes.

Entry Option(s) Secure Spot: Pay in full via STRIDER