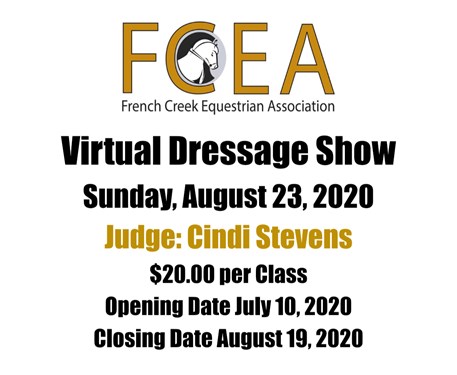 FCEA Virtual Schooling Show

8/23/2020
Organizer:

Kadie Walmer

jkdr97@aol.com

Show Rules:
1) All exhibitors are to be safely attired. Helmets are required. Formal attire is not required.
2) Classes may be combined or split depending on entries; at show management discretion. Show management reserves the right to refuse any entry. Judge's decision is final.
3) All dressage tests must be videoed from "C" in a ring as close to actual measurements as possible with dressage letters or suitable markers visible.
4) All videos must be unedited and videoed between the opening and closing dates of the show. Please try to make the video as much like the judge would see from a judges box (avoid over zooming; entire horse and rider must be visible). Muted videos will not be accepted. Readers allowed.
5) Videos and entry forms must be submitted by the closing date at 8pm. Video links are only accepted via YouTube.
All copyright rules must be adhered to when submitting videos, FCEA will not be liable for any costs incurred as a result of infringement of any copyright laws by any competitor or third party.
6) Virtual ribbons will be awarded per class.
7) Exhibitors will receive a test complete with judge's comments and will be emailed within 3 days after the show.
8) This show will count toward year end awards as judged score; no additional weighting will be added. Additional virtual shows for 2020 are being considered
9) A still photo (current or older one) of horse and rider is requested to be used on social media when posting results.
VIDEOS LINKS ARE TO BE SUBMITTED TO:
JKDR97@AOL.COM
VIDEO LINK NAMING: RiderName & HorseName Class# DateofShow
i.e.: Alexa Derr & Gentleman Class #10 6/21/20
Questions: Email Kadie Walmer @ jkdr97@aol.com or Alexa Derr @ vuedelou@gmail.com
Organizer Notes
All videos must be submitted as a YouTube link, you can upload as an unlisted video if you do not wish to make it public.
Please name the video in the following format: Rider Name & Horse's Name, Class #, Date of Show
All video links must be received by 10:00 p.m. on the closing date; Muted videos will not be judged.
Tests/Experience
Dressage Show Tests
USDF 2019 Intro - Test A
USDF 2019 Intro - Test B
USDF 2019 Intro - Test C
USDF Freestyle Tests (Trng-4th)
USEF 2022 Adv- Test A
USEF 2022 Adv- Test B
USEF 2022 BN- Test A
USEF 2022 BN- Test B
USEF 2022 Interm- Test A
USEF 2022 Interm- Test B
USEF 2022 Novice- Test A
USEF 2022 Novice- Test B
USEF 2022 Prelim- Test A
USEF 2022 Prelim- Test B
USEF 2022 Training- Test A
USEF 2022 Training- Test B
USEF 2022 Training Three-Day
USEF 2019 First Level - Test 1
USEF 2019 First Level - Test 2
USEF 2019 First Level - Test 3
USEF 2019 Fourth Level - Test 1
USEF 2019 Fourth Level - Test 2
USEF 2019 Fourth Level - Test 3
USEF 2019 Second Level - Test 1
USEF 2019 Second Level - Test 2
USEF 2019 Second Level - Test 3
USEF 2019 Third Level - Test 1
USEF 2019 Third Level - Test 2
USEF 2019 Third Level - Test 3
USEF 2019 Training- Test 1
USEF 2019 Training- Test 2
USEF 2019 Training- Test 3
FEI Test Tests
Rider Choice
Administrative Information
Change Policy:

Changes are not permitted.

Refund Policy:

No refunds.

Entry Option(s) Secure Spot: Pay in full via STRIDER