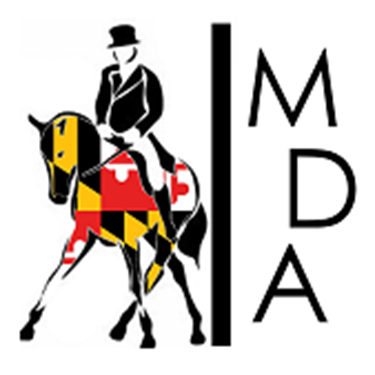 MDA Schooling Show Finals/Open Show - Harford County Equestrian Center

10/30/2022
Organizer:

Martha Turnbaugh

mdashowsecretary@gmail.com

410-960-5382
Tests offered: USDF, USEF & FEI dressage tests; 2022 Eventing; Western Dressage.
Entry fees for all dressage tests are $25.00 per test, all championship/qualifier tests are an additional $5, please select other to register your championship/qualifier. There is a $16.00 non-member per show.
MDA members are eligible to utilize Work credits to discount one test per show. When using a Work Credit to discount one test, select the discounted ride. The original work credit must be uploaded along with your registration and brought to the entry secretary the day of the show.
Limit 2 rides per horse/rider combination.
Third rides shall be allowed on a first come, first served basis if the show schedule permits. Payment for third rides is due on SHOW DAY – do not include with regular entry fees, email your request to the Event Secretary.
MDA is offering a Thoroughbred Incentive Program (TIP) High Score Award, so ensure that you put your TIP number in the comments.
A current readable Coggins must be uploaded when registering or emailed to the organizer for your entry to be complete. Photographs of all documents (Coggins/Work Credit) can be used for upload!
NO REFUNDS after closing date unless a replacement ride is found from the waiting list or a Doctor or Vet note is provided to the Entry Secretary within 7 days of the show date.
There is a $5.00 convenience fee when registering.
MDA members are eligible for our fantastic year-end awards. See website www.marylanddressage.org
Organizer Notes
Please provide following information in the entry note section:
1) MDA membership number
2) Current coggins
3) Work Credits, if applicable
Attach above documents to your entry. You can take a photo of documents & then upload
Entries with all supporting documentation can be mailed to: 3527 Churchville Road Aberdeen, MD 21001
Test #1
$25.00
Member/Boarder Price:

$15.00

Test #2

$25.00
Tests/Experience
Test #1 Tests
USDF 2023 Intro - Test A
USDF 2023 Intro - Test B
USDF 2023 Intro - Test C
USDF 2023 Training Level Freestyle
USEF 2023 Training Level - Test 1
USEF 2023 Training Level - Test 2
USEF 2023 Training Level - Test 3
USEF 2023 First Level - Test 1
USEF 2023 First Level - Test 2
USEF 2023 First Level - Test 3
USEF 2023 Second Level - Test 1
USEF 2023 Second Level - Test 2
USEF 2023 Second Level - Test 3
USEF 2023 Third Level - Test 1
USEF 2023 Third Level - Test 2
USEF 2023 Third Level - Test 3
USEF 2023 Fourth Level - Test 1
USEF 2023 Fourth Level - Test 2
USEF 2023 Fourth Level - Test 3
USDF/ USEF 2019 Quadrille Freestyle (Intro - Grand Prix)
USDF/USEF 2019 Pas de Deux (Trng - Grand Prix)
USEF 2022 Starter
USEF 2022 BN- Test A
USEF 2022 BN- Test B
USEF 2022 Novice- Test A
USEF 2022 Novice- Test B
USEF 2022 Training- Test A
USEF 2022 Training- Test B
USEF 2022 Modified Test C
USEF 2022 Modified 3-Day
USEF 2022 Prelim Test C
WDAA Intro - Test 1
WDAA Intro - Test 2
WDAA Intro - Test 3
WDAA Intro - Test 4
WDAA Basic - Test 1
WDAA Basic - Test 2
WDAA Basic - Test 3
WDAA Basic - Test 4
WDAA Level 1 - Test 1
WDAA Level 1 - Test 2
WDAA Level 1 - Test 3
WDAA Level 1 - Test 4
WDAA Level 2 - Test 1
WDAA Level 2 - Test 2
WDAA Level 2 - Test 3
WDAA Level 2 - Test 4
WDAA Level 3 - Test 1
WDAA Level 3 - Test 2
WDAA Level 3 - Test 4
WDAA Level 4 - Test 1
WDAA Level 4 - Test 2
WDAA Level 4 - Test 3
WDAA Level 4 - Test 4
WDAA Level 5 Test 1
WDAA Level 5 Test 2
WDAA Level 5 Test 3
WDAA Level 5 Test 4
WDAA Freestyle - Intro
WDAA Freestyle - Basic
WDAA Freestyle - Level 1
WDAA Freestyle - Level 2
WDAA Freestyle - Level 3
WDAA Freestyle - Level 4
Administrative Information
Ride Time: Ride times will be posted on www.marylanddressage.org roughly the Wednesday prior to the show date.

Trailer Direction:

Google Maps/MapQuest, etc. is readily available for the physical address

Arena size/Footing: large stone dust.
Warm-up arena: large stone dust.
Parking: grass.
Water and restrooms are available

Change Policy:

Changes are not permitted.

Refund Policy:

No refunds.

Entry Option(s) Secure Spot: Pay in full via STRIDER