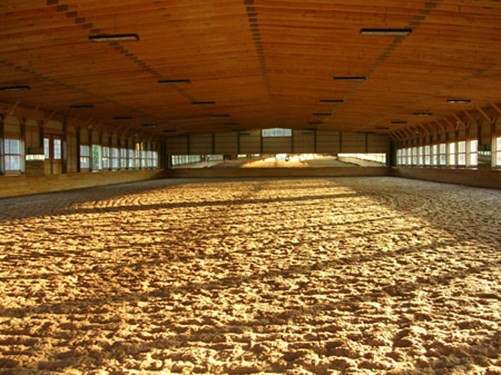 Indoor Arena Rental at Sprieser Sporthorse, Marshall VA

12/16/2020 − 4/15/2021
eWaiver Link(s)

Organizer:

Lauren Sprieser

lauren@spriesersporthorse.com

Rent riding time in our indoor arena! Our oversized indoor with dust-free footing is available for outside riders to enjoy this winter. Get out of whatever winter weather heads our way and keep making progress towards your 2021 goals! Limited jumps, cavaletti, and other "toys" available for rider use.
PLEASE read the rules below:
1. No riding lessons. If you are interested in teaching out of our facility, please email lauren@spriesersporthorse.com to arrange.
2. Please clean up after yourself. Please remove all manure, and replace any jumps, poles or other equipment before you go. If the lights were off when you arrived, and there are no riders riding after you, please also turn them off before you go.
3. No lunging. If you need to lunge your horse before getting on, our round pen is available for this purpose.
4. Don't park like a doofus. Park on the LEFT side of the circle driveway, so traffic can get around you if necessary.
5. Rental times MUST be PREPAID via Strider, and waivers MUST be signed in advance.
6. Sign up for a time on our Time Center calendar - www.timecenter.com/spriesersporthorse
7. We welcome groups, but rental fee is $20/person, not $20/group.
Looking for dressage lessons while you're at it? Assistant trainer Karrigan Norris, USDF Bronze and Silver Medalist on her own self-trained rescue horse, is available by appointment, and head trainer Lauren Sprieser is available for monthly clinics. Look out as well for our Winter Adult Camp series!
Organizer Notes
Administrative Information
Ride Time: Sign up for a time at Www.Timecenter.Com/spriesersporthorse
Trailer Direction:

Use your trip odometer to follow these directions! Street signs are not always obvious. These directions are trailer friendly (you can use Google or a GPS if traveling by car).

From I-66
Take the VA-55 E exit- EXIT 27- toward VA-647 / MARSHALL
At top of exit, turn left and go back across the Interstate if you've come from the East; if you've come from the West, turn right. Take the first RIGHT turn, which is VA-647, CREST HILL ROAD.
Follow CREST HILL ROAD approximately 5 miles.
Turn LEFT onto WILSON RD and go approximately 2 miles.
Turn RIGHT onto CONDE RD and go 1.3 miles.
Turn LEFT onto OLINGER RD.
SPRIESER SPORTHORSE will be down the road 0.8 miles on your right – 6782 OLINGER ROAD.
From Warrenton
Take FROST AVENUE west (away from town) and turn RIGHT on VAN ROIJEN, which is about 0.3 miles from the intersection of Frost and 17/29.
Go 0.1 miles and turn LEFT on OLD WATERLOO RD (VA-678).
Follow OLD WATERLOO (do NOT turn onto Lower Waterloo), – which curves right to become WILSON RD – for 9.1 miles, and turn left onto CONDE ROAD (VA-764).
Follow CONDE 1.3 miles and turn LEFT onto OLINGER ROAD.
SPRIESER SPORTHORSE will be down the road 0.8 miles on your right – 6782 OLINGER ROAD
From Culpeper
Take VA-229 / RIXEYVILLE RD to LEE HWY / US-211 E – turn RIGHT (EAST)
After 1.5 miles, turn LEFT onto LEEDS MANOR RD and then RIGHT onto OLD WATERLOO RD.
Follow OLD WATERLOO RD 2 miles to WILSON RD – turn LEFT onto WILSON RD
Follow WILSON RD 5 miles to CONDE RD – turn left onto CONDE RD and go 1.3 miles.
Turn LEFT onto OLINGER RD.
SPRIESER SPORTHORSE will be down the road 0.8 miles on your right – 6782 OLINGER ROAD
Change Policy:

Changes are not permitted.

Refund Policy:

No refunds.

Entry Option(s) Secure Spot: Pay in full via STRIDER